An event of fashion exhibition of different stalls, Clothings, Jewelleries, Footwears, Food and much more different accessories.
OPEN INVITATIONS to all karachians.
Will Held on JUNE 18th – 19th at THE FORUM mall Clifton.
————————–————————–————————–——-
SLOTS ARE AVAILABLE.
————————–————————–————————–——-
LIVE media coverage, interviews, concert and performances on stage to entertain our visitors and buyers. And so many things to surprise our visitors.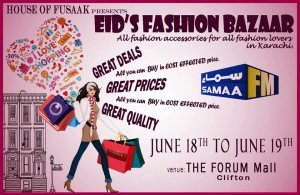 IMPORTANT NOTE:
– Free Entry for Famlies.
– Full proved Security.
– High Alert Ushers.
– KEEP KARACHI CLEAN concept.
– 5 lucky Draws.
ATTENTION:
Organizer will not take any responsibility of your lost (mobiles, Keys, Identity cards etc). Take care your stuffs your own.
Any type of mishaps will be tolerated.
For booking up your space feel free to contact us,
0332-3163933
0343-2351566
Same number on whtsapp
Or email us with your product details at,
fusaak.productions@gmail.com
fusaak.marketing@gmail.com