iPhone 5 comes with 4″ screen, with a front and back made entirely from glass and aluminium
8MP camera can stitch images together for stunning panoramic images

New software replaces Google's maps with Apple's own
Mobile broadband will be super-fast due to '4G' antenna

Controversial new 'docking connector' rumours confirmed, making older accessories obsolete without adapter
New range of iPods also announced 
Apple has finally unveiled the hugely anticipated iPhone 5.
CEO Tim Cook took the stage in San Francisco, saying 'Apple has never been stronger' as the new handset was revealed.
It has a larger 4″ screen, along with a new dock connector and headphone design.
The phone will go on sale on September 21st, and will cost the same as the previous version, the 4S.

With a casing made from glass and aluminium, is it also the thinnest iPhone ever made, at just 7.6mm thick
It also contains an eight-megapixel camera which can take 28-megapixel panoramic shots.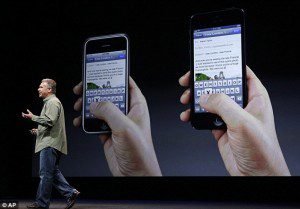 Bye bye 4S, hello 5: Phil Schiller, Apple's senior vice president of worldwide marketing, shows off the iPhone 5 for the first time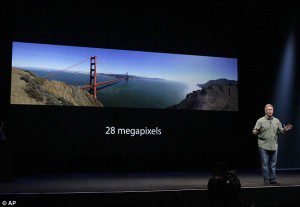 Take these images: Schiller said the camera 'makes the ocean look bluer, the kids happier' and takes fantastic panoramic images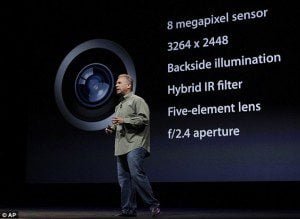 Camera specs: One of the key improvements, according to Apple, is in the camera, with a re-developed lens and panoramic mode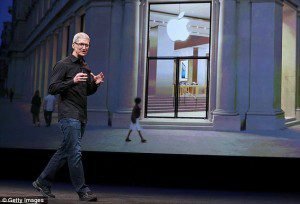 Apple's future: CEO Tim Cook takes to the stage to unveil the iPhone 5
It's back: The brushed aluminium back of the new iPad still retains the classic Apple logo
Apple confirmed the phone, available in black and white, has a four-inch display, with a resolution of 1136×640 – the same width as previous models but taller, allowing an extra row of icons to be displayed on the phone's home screen.
It uses a new type display which is 30 per cent thinner that previous handsets.
Phil Schiller, Apple's vice president of marketing, said: 'It is designed to fit in the hand, and all of our software is being updated to take advantage of this display.'
The handset also has a new chip, the Apple A6, which is twice as fast as previous versions but 22% smaller.
The iPhone is expected to become the biggest selling in Apple's history, with an estimated 8m set to be sold as Apple fights increasing competition from Google's Android software and Microsoft's Windows Phone.
Apple boasted the new handset has eight hours of 3G talk time, and a 225 hour standby time.
It also has an eight megapixel camera with a 3264×2448 sensor, and has improved its performance in low light, and a lens made from sapphire crystal.
The handset also now has a panorama mode to create wide shots. 'The ocean looks bluer, kids look happier,' joked Schiller.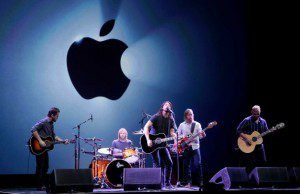 Rock: The Foo Fighters perform during the unveiling event in San Francisco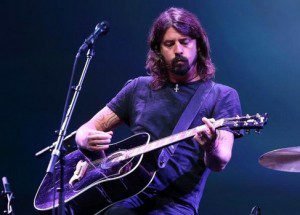 Concert: Foo Fighters lead singer Dave Grohl plays his guitar during the gig
Delighted: Apple CEO Tim Cook, left, and Dave Grohl, right, look at the new iPhone 5
 Maps a-plenty: Scott Forstall, Apple's senior vice president of iOS Software, shows features on the iPhone 5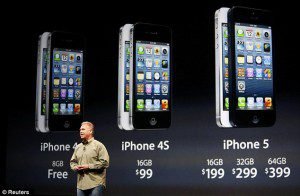 iPhone pricing: Previous models will take a drop as the 5 is rolled out. iPhone pricing in the UK is still unconfirmed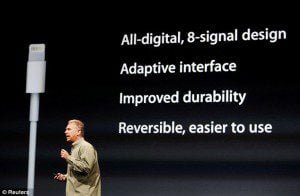 The new 'Lightning' dock: While providing someowhat of a disconnect for previous users, the new port is faster and can be plugged in either way up.