NAZMIN CHOWDHURY – INTERVIEW
How's it like being a Radio DJ?
It feels great! Although, I'm a chatterbox at home, I have always been someone quite shy at public speaking. Even at school I hated putting my hand up to answer questions. So being a Radio DJ definitely helped me overcome this fear and I have now been able to host festivals and TV shows (in addition to my radio shows) with so much ease.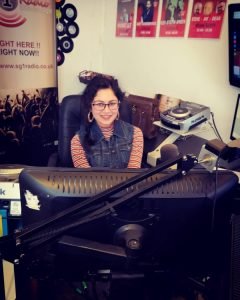 I am someone who loves talking and engaging with my listeners throughout the show. My listeners definitely keep me going. In fact, they are the ones who give me ideas throughout the week on what to keep on the show agenda! I love being in the hot-seat and listening to the stories they have to share. My listeners and I don't share a conventional RJ/Audience relationship but I would call it a bond of pure friendship. I couldn't thank them enough for all the love and support they have given me throughout this journey.
How did you land a job at SG1 Radio?
I've been at SG1 Radio for around 2 years now and would say I ended up at SG1 Radio by chance (and it was a very lucky chance indeed!). I had actually sent my demo to an Asian Radio Station in London. I received a telephone call from the Station Manager who said he liked my voice but noted that I didn't have any experience in Radio. He suggested that I get some experience locally, get in touch with him and then we can arrange something. At the time, I was acquainted with Terry Sullivan (Presenter at SG1 Radio) who I briefly knew via networking. I spoke to him and asked if I could shadow him on a few shows to gain some experience. Instead, he spoke the Executive Producer, Ray Medwynter, and fixed me an interview with him.
I remember running late for the interview due to train delays (very typical in the UK!) but Ray welcomed me very politely into the studio. He asked me what kind of music I like listening to. So I explained I loved listening to Asian music like Sufi, Ghazals, Bhangra and Bollywood etc. but didn't think this would be of any interest to SG1 Radio. To my surprise, Ray said "it all sounds like music to my ears" and confirmed that he would love me to have my own show at SG1 Radio and gave me a time slot to fit around my full-time job. I initially started off with a couple pre-recorded podcast shows before going live on my birthday! My new show "The Debate Show with Naz" airs every Saturdays from 3pm to 4pm (UK time). It works out quite well as I have listeners from Asian countries who can tune in at night and then I also have an American audience listening in the mornings.
Have you faced any funny or awkward moments during your show?
Oh yes … many times! There was this one time when Ray walked into the Studio and started talking about something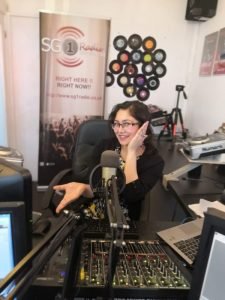 and the mic was still on, inadvertently adding to our listeners' entertainment! Also, there have been times when I've announced a song and a completely different song has gone out. I guess these moments make our radio shows more raw and natural and we can all laugh about it later.
How do you balance your work as Lawyer with your Radio work?
Thankfully it hasn't been too difficult for me and overall it's helped with my time management skills. During weekdays, I purely focus on my legal work (currently training as a Solicitor) and reserve my weekends for my Radio related work.
What were you doing before working in Law and Radio?
Before Law and Radio I was a student at the University of Hertfordshire, studying law. During my student days, I worked part-time in a local Pharmacy for around 3 years. I really loved it there. My boss, Mr Jaffer, was perhaps one of the most loveliest bosses I had ever met. I remember how he would allow me to change my work hours during exam time and Ramadan. He would also always insist that I took my full one hour break during lunch times too! I met some fantastic people during my Pharmacy days and I am still in touch with them.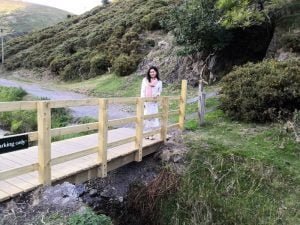 What are your hobbies?
I love reading, particularly Crime Thrillers and Horror. My favourite books are "The Outsider" by Stephen King and "The Devil Aspect" by Craig Russell.  Other than reading, I love going on long walks and visiting scenic locations.
Your favourite holiday?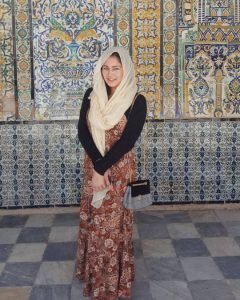 I enjoy most of my holidays but nothing quite beats my trips to Bangladesh, most particularly as my beautiful Nanu (Grandmother) lived there. My most favourite trip has to be when I visited in 2015 to attend my Cousin's wedding. I had never experienced staying at a wedding house with lots and lots of people and I really loved it. I saw family members I hadn't seen in years. We would all stay up at night until very odd times playing cards, narrating funny stories or playing antakshiri.
What are your biggest strengths and weaknesses?
My strength has to be my family as they are my heartbeat. My weakness has to be chocolates and I eat them like my daily vitamins!
What is your success mantra?
I don't really follow a particular mantra but I have always been someone who believes in "the show must go on". Regardless of what happens in life, I like to keep going and not be affected by any negative influences.
Any words for newcomers looking to enter this field?
If Radio DJing is your dream then pursue it! I would suggest speaking to local Radio DJs and see how they work. Sometimes sitting in someone else's show and speaking on the mic (even if it's for 5 mins) will really help you to get the feel of it.
Follow Nazmin on her Social Media Accounts:
Facebook: www.facebook.com/nazminchowdhury123
Instagram: www.instagram.com/nazmin_chowdhury
Twitter: www.twitter.com/nazmin_xx