A suitcase that communicates with your smartphone and follows you through the airport. It doesn't hop though, that was just a poor name choice.As any frequent flyer knows, hauling around a passport, carry-on luggage and suitcase while navigating through an airport can be a real hassle, and the situation is made worse if the traveler in question has any physical health issues.
The work of designer Rodrigo Garcia Gonzalez, the suitcase contains a caterpillar system at its base which enables it to drives itself forwards as well as turn. Three Bluetooth receivers can connect to the owner's smartphone, allowing it to triangulate the signal and determine where the user is in relation to the suitcase.The Hop is designed to follow behind the user at a constant distance, but if the signal is lost the suitcase locks itself and a vibration is sent via the phone to alert the user. The bags can be programmed to follow one another or to be controlled jointly by any staff that may handle your luggage.When the phone moves, the suitcase follows and if the handset goes out of range, it is automatically locked and a vibrating alert lets the owner know. The hop! Could be particularly useful for bellhops at hospitality venues or those who struggle to maneuver heavy objects, although its convenience could appeal to a potentially large traveler base.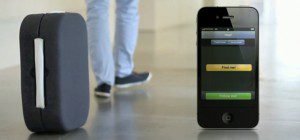 The bag seems a little small to warrant needing to move on its own. Even a child could pull a suitcase that size if it had a handle and wheels.Hop! can be configured to follow a number of other Hop! units in a line, and should the smartphone signal be lost or interrupted somehow, the user will receive an alert, and the suitcase locks itself. In an age of increasingly security-conscious airports, there's some obvious issues to an automatic hands-off carry-on ambling around an airport, but should the relevant authorities allow it, one can imagine such a device proving indispensable for disabled travelers, and convenient for the rest of us.
The smart luggage is manufactured to meet most airline cabin space requirements, measuring 55 x 40 x 20 cm (roughly 21 x 15 x 8 inches). Gonzales states that the internal mechanism of his device doesn't increase the weight of the case significantly, though we've received no hard figures on this.The hop! suitcase from Ideactionary is Bluetooth-enabled and can follow its owner around as well as being traceable when lost.