DETAILS :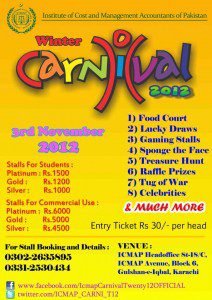 The carnival will be held on 3rd November. And timing will be as 9a.m-9p.m.
Description :
HEY GUYS GRAB THE OCASSION OF "ICMAP CARNIVAL TWENTY'12" ARRANGED BY I.C.M.A.P(INSTITUTE OF COST AND MANAGEMENT ACCOUNTANTS OF PAKISTAN) ON 3RD NOVEMBER NEAR NIPA.
GET THE CHANCE TO MEET FUTURE LEADERS, ENJOY THE FASCINATING EVENT WITH US.
GAMES, SHOOTING, FOOD, SINGING, LUCKY DRAW, DRINK, QUIZES, CELEBRITIES AND LOTS MORE FUN BLASTING ACTIVITIES.
HAVE CHANCE TO WIN PRIZES. YOU CAN EVEN PARTICIPATE IN CREATING YOUR OWN STALLING AT THE CARNIVAL.
VENUE MAP : http://goo.gl/maps/NlR6t
STALL PRICES FOR STUDENTS:
PLATINUM : 1500
GOLD : 1200
SILVER : 1000
STALL PRICES FOR COMMERCIALS :
PLATINUM : 6000
GOLD : 5000
SILVER : 4500
FOR REGISTRATION AND BOOKING OF STALLS.
CONTACT : 03022635895 , 03312530434