Dear Fans And Supporters Asalamualequm!
My Name is Sean Ali And I am The Director Of the Film FATIMA, First And Formost My Dua's To You And Your Family,My Page Admin Has Been Giving Me Updates And How Much You Guys Have Been Loving Our Work. So I Decided While the Film Is Getting Edited I Take Time Out and Thank All Of You People Who Have Been There With And Made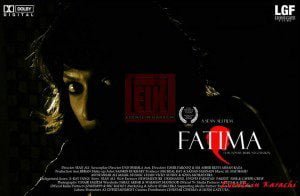 FATIMA Not Only A Big Name But Have Made Us Progress More and More.We are Very Proud To Say That Our Video's, Teasers, Or Wallpapers Are Shared 350 Places In A Day, Atleast 15 LIKES On Everything We Post, In Two Months More then 1300 Fans! No Other Movie Coming In Pakistan Can Progress This Fast! I Dont Know How I Can Thank All Of You, And the Only Way I Can is To Present This Film In The Best Manner i Can! It is My First Venture In Pakistan Where As Ive Been Working In Hollywood And Canadian Film Industry Since I Was In Canada, And I Remember One time Hollywood Officials Asked Me "Do You Think You Can Make a Film And Promote It In A Place Like Pakistan?" And I Answered And Challenged Them "Yes". And By Making And Seeing the Promotions Of FATIMA Ive Just Received An Email From Them That "We Never Could Have Expected That People Are So Eager To See And Support There Films" And They Have Offered More Films To Be Made Under There Guidance! Which is A Huge Achievement! We Pakistani's Should be Proud That We Have Shown Them That We Pakistani's Are No Less Then Any Industry! Thank You Guys!
I Would Like to Thank My Grand Mother The Legendary Senior Drama Actress Ayesha Khan Who Has Shown Her Support In The Cinema Revival, Secondly Sana Humayyun Who Also Showed Her Work To Improve Pakistani Industry! My 22 New Actors Who Have Done An Amazing job! My Production Team Who Have Worked 22 Hours In A Day To Complete the Shooting On time! My Singers Who Have Done An Amazing job! My Make-Up Artist Samrin Bukhary & My Two Wardrobe Designers Wajahat Mansoor & Faraz Akbar! Our Media And Advertising Starchika! My Official Radio Partners Joshfm99 & BBCRadio1! My TV Media Partners A-Plus & A-Lite! Last But Not the Least My Web Promoters! Newsmixture, Desimanzil, Lollywood Ressuruction, PakEnt, Events In Pakistan, & Our Official Supporting Media Partner Events In Karachi!
Last But Not the Least Again Once Again In Loving Our Work, Giving FATIMA The Love! And Affection! No Matter How Much I Thank You It Wont Be Enough! Please Keep the Support For Us! And Keep Supporting FATIMAMay Allah SWT Give Us Success And Give You Whatever You Wish For! Ameen!
Fi Amanullah!
Regards And Care
Sean Ali Director – FATIMA THE MOVIE