Talking about cinemas in Karachi had its golden days in 1960s when some of the cinema houses were located in Karachi, making the film for a large and working class population. The movie viewership is still among the young and old karachities. However the interest has shifted towards Hollywood and Bollywood Movies. Watching movies with friends and family is the most enjoyable time. Unlike other cities in Pakistan Karachi have few cinemas, some of which have been around for decades.
History of Cinemas in Karachi
Location of the oldest cinema was in the Gulistan-e-Jauhar area of the city. It was an open air cinema called Drive-In Cinema which was established in 1960s and functioned till late 1980s. Karachi was the centre of Pakistan film industry in 1960s to 1970s with a host of Cinemas and film studios. It was a major time pass for karachities. However, in 1980s two major changes came about:
1st: The film-industry moved to Lahore.
2nd: The arrival of Video cassette recorder so that people could watch movies in their home.
These changes resulted in the closure of many cinemas, and majority of them were converted into shopping malls or apartments later.
Major Cinemas in Karachi
Atrium Cinemas

In 2011 Atrium Mall Karachi, near Avari Towers had a great inauguration. It is the first ever 3D cinema in Pakistan and being talked about a lot these days. It is also the first multiplex in Pakistan. The ticket prices are somewhat similar to other good cinemas i.e. non 3D movie Rs. 300/- & 3D movie Rs. 500/- and Rs. 150 for re-usable 3D glasses.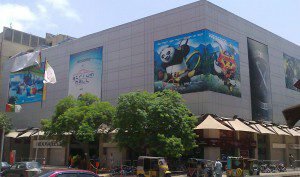 The ambiance of the multiplex is amazing. The cinema is equipped with Dolby Digital & DTS Surround Sound and can accommodate around 600 people. Atrium Cinema is the pioneer in digital 3D cinema in Pakistan, Atrium Cinemas is located in the mid of Karachi City that is Saddar. The cinema is showing top Hollywood, Bollywood and Pakistani movies for huge audience.
The Cineplex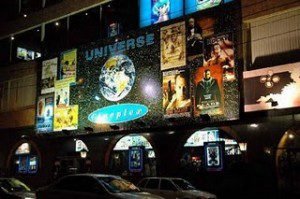 In terms of family friendliness it ranks the highest. The crowd is good and there is plenty of choice of what to watch. The Pakistan gentry love their Indian movies so there are two Indian movies up. That is balanced out with two English movies. All four play at the four different screens in the building. When a film is fresh it plays in Cinemas 1 and 2 and then moves to 3 and 4 as new films starts coming in.
Nishat Cinema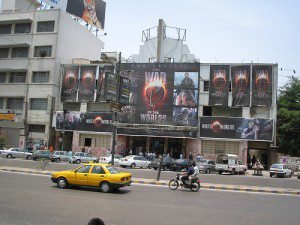 This is one of the oldest cinemas in the city and is located in the old area of Saddar. It is frequented often because it has a bigger screen and a less expensive ticket than the Cineplex. The downside is that the area is not that safe but that should not daunt the movie buff because it is an entirely new experience to watch a film among the giant speakers of Nishat Cinema.
Capri Cinema

It's also located in the vicinity of Nishat Cinema. It is an old building and frequented by the youth more than families. Scenes from the movie playing are painted in the most vivid detail on the large billboards. It is a sight to be seen and it is a pity that these artists are slowly becoming redundant as technology takes over and the boards are simply covered in sheets advertising the movie.
Prince Cinema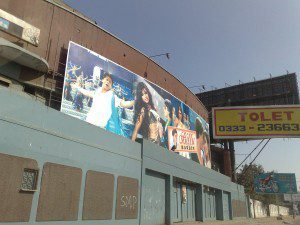 It is located on Main M.A Jinnah road. It has the highest numbers of seats. The Biggest screen and Hall, Prince Cinema was established in 1973. It have  total of 1066 seats, Prince Cinema is known for having the largest seating capacity of all the cinemas in Karachi.
Author's Message: Well with this I'll say choose your cinema and go with your friends or family and watch the movie of your choice.
Article by: RJ ALINA