About Asfandyar:
Asfandyar Junejo AYJ A.K.A The Noise machine was born and raised in Hyderabad,sindh on 8th jan 1993.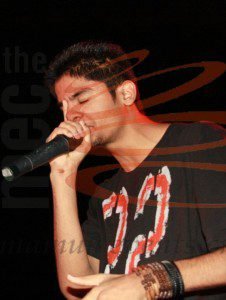 His early education was in County Cambridge school, at the age of 15 AYJ discovered the art of beatboxing on Television and he got attracted towrds it! and that was the beginning of the new beatbox sensation in Pakistan every day AYJ used to practise his beatbox this so called teenage discovery became a part of his life, It would be wrong to think that his dedication for this art went in vain, In end of 2008 AYJ migrated to Karachi for more exposure as he knew music had no future in a small town like Hyderabad.
In 2009 AYJ gave auditions in Karachi for Sahir Lodhi show in the end he was selected for a show with Sahir Lodhi at Tv1 undoubtly he was selected because of his unique talent, At the first show he did pretty well and amazed the crowd and Sahir Lodhi was compelled to call him on another show after that he was sighted by mtv and was called to perform live at mtv basant festival with Dino and Ali safina, after that he was called on fm91 to have a live interview with dino alongside Ali Ansari and Shahzad Saleem Then he took up the underground media by hitting every gig and event he was offered after a while he was called for a live interview on Ary Musik show "Spot on" was hosted by Vj Kanza not much time was passed with events and he was offered another interview at hum tv with Mani and his wife where Madiha Iftikhar Ahmad and her Family was also invited. he did many radio and television shows to get where he is today and it finally paid off cause at 14th feb 2011 he signed a contract with Urban prince records.