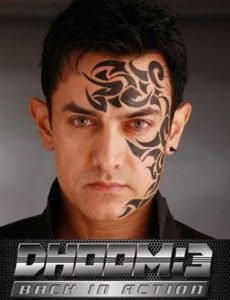 The bollywood famous actor Aamir Khan's movie 'Dhoom 3' breaks-the-record of Box Office in Pakistan as just in the first week of its release. 
In Pakistan's largest city 'Karachi', Dhoom 3's Box Office receipts grossed above Rs 20 Million from 56 screens just on the first day of its Cinema-release. Bollywood movie really broke the Box Office record of 'Waar' movie that was itself record-breaking released last month.
"Waar grossed more than Rs.11 Million on the day of its release, but Dhoom 3 has managed easily to broke that margin", said Nadeem Manviwalla (known as Pakistan's leading distributors/exhibitors). Undoubtedly, Dhoom 3 goes successful with the massive hit just because of the famous and popular actor 'Aamir Khan' and with the pre-release publicity.
The highest grossing of Rs 100 Million in Box Office collections is Chennai Express, and surely it will be interesting to see with which margin Dhoom 3 breaks the record of Box Office.
Let's see how far it goes!