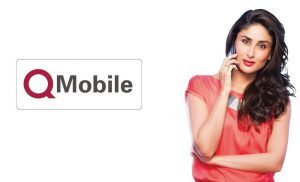 KARACHI: Pakistan's Large Cellular Brand QMobile always seeks for
brilliant stars for promotion of their products. And this time, they've hired Kareena Kapoor
to promote the advertisement of their upcoming flagship 'Noir Quad Core Z4'.
QMobile is ready to launch their next flagship 'Noir Quad Core Z4' with high-class features like 13MP rear and 5MP front camera, 32 GB Ram and much more. And it will cost around Rs 35000 (Pak Rupees).
So, this is going to be an expensive advertisement in which the famous actresss 'Kareena Kapoor' will appear. Zeeshan Akhtar (CEO and Chairman of QMobile) is undertaking the whole concept of commercial and its execution details.
Kareena Kapoor valued the success and trust that QMobile has built among the people all over Pakistan. She said, she is honored to join QMobile!