An Italian designer Antonio DeRosa has created a concept interchangeable lens camera (ILC), with a twist. Aptly named the Apple iCam, this modular shooter uses an Apple iPhone as its image processor and screen which can be easily connected to the camera's rear. From its early concept designs, it seems that the Apple iCam features a very minimalist design with minimal ports and buttons. The ILC's user interface will be accessible on the iPhone's touchscreen. With the quality of smartphone cameras improving over the years, many shutterbugs may leave their bulkier snappers at home in favor of smartphones which are more convenient and less intrusive for capturing those candid moments. However, this unique concept camera tries to combine the ease of use of an iPhone with the versatility of an ILC. '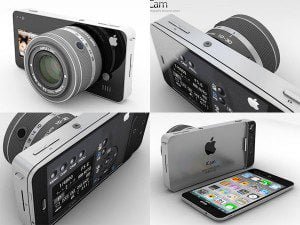 Smartphones have already invaded the compact camera market in recent years, but their small lenses and sensors keep them from beingseen as suitable alternatives to more advanced cameras. The iCam camera changes that by adding a large sensor and interchangeable lens system to the mix. Simply attach your iPhone 5 to the case and you'll have yourself a mirrorless interchangeable lens camera with a huge LCD screen, fast processor, internet connectivity, and countless photo apps!An Apple camera concept doesn't sound so far fetched nowadays, especially with the Cupertino giant looking for a new direction. Steve Jobs wanted to change the way we use phones, TVs, computers and maybe even cameras. He partly achieved that through the great camera on the iPhone 4S, but there's room for more evolution. Maybe the iCam Apple camera will take care of that…here's also an LED flash on board, a front pico projector and a SD UHS-i slot. Siri compatibility is also here, as well as a motion sensor and ISO range from 100 to 3200, extendable to 6400.
The Apple camera concept is capable of full HD 60 fps capture, using a 10.1 megapixel sensor and its specs most likely include Bluetooth and WiFi as well. I suppose that the time between shots is almost non-existent, since even the iPhone 4S beat records and delivered an incredibly fast photo shooting experience.