Ali Hamza from Noori is blessed with a baby boy today! Interestingly it's the second Ali in less than a week time who is blessed with a child, former one being Ali Azmat.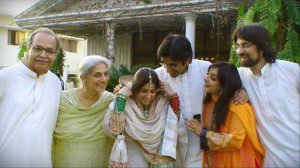 Noori is considered to be the pioneer of the re-emerging pop culture of Pakistan in early 2000's and they have some huge hits to their name. The band is known internationally and has a lot of fans throughout the world. The band performed exceptionally well at the Coke Studio sessions, where Ali Hamza's talent could be seen.
Noori's official facebook fan page was earlier updated saying:
"A Big Mubarik to Ali Hamza and Nafisa on the birth of their first Son…May Allah bless him"
Later their facebook page was upated with a picture of the baby boy
Ali Hamza tied knots with Nafisa almost a year back. We wish the whole Noori family and specially Ali Hamza, all the blessings and good health to new comer to the family, this sure is the best news for Ali and his family.