6th Sense Event Management Presents
Year Of The Night 2012/13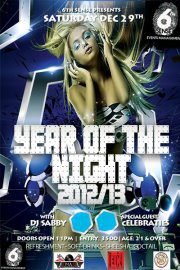 Summer is not here yet there is enough heat, All that is scheduled to happen on the day is non-stop music, enough dance to make you sleep the next day.
Dance, Trance the DJ will hit the house till the night goes into final hours.
Beautiful Disco Lights and Smoke Machine on the floor won't let you be away from the floor for long.
Experience hip-hop, trance, rock everything which the ears love, dance, sheesha Bar.
Other info :
refreshments, snacks and Drinks would be available on floor
Some Fine Rapping & Mixing to be done by
DJ Sabby
Time :11:00 pm
(Gate get closed on 11:00pm)
Till :You breathe
Dress Code :Dress to Impress
Venue :Disclosed Only to Pass holders
Pass Prices : Couple 3500/- (single girl) 1500/-
We have the following categories :
Other Important details :
– Security will be high with metal detectors,(Venue will provide fool-proof security, checking would take place at the gates), your expected to co-operate
– No Stags
– No Weapons / Arms / Guards inside the venue _
– No Pets
– Organizers / management reserves the right to refuse entry to anyone even though they possess Event Pass
– We expect your co-operation with our staff
You can call for tickets at :
03472356563
03412381351
Event Organizer:
https://www.facebook.com/pages/6th-Sense-Event-Management/260910550670577
Marketing & Promotion:
http://www.facebook.com/jexmarketing
Supporter:
https://www.facebook.com/dmaxentertainment
Social Media Partner:
https://www.facebook.com/events.in.karachi (EIK)
https://www.facebook.com/partiesinkarachi (PIK)
Sponsor:
https://www.facebook.com/mirchi360degrees
Please also Note :
Tickets will not be available on Gates, We don't expect you to come looking for them. Please purchase it well prior to the event, or call and book it for yourself, you will be included in the invites list.