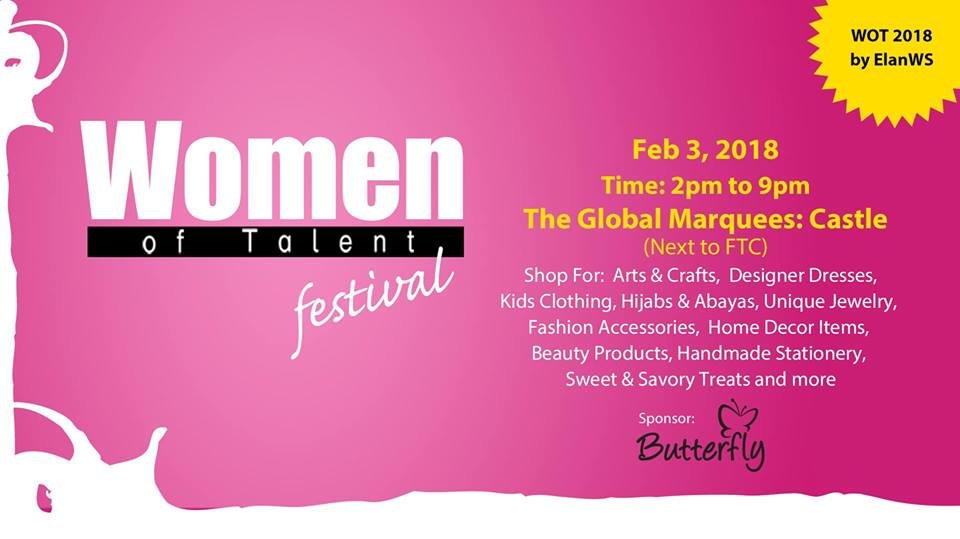 Visit our exhibition for a unique shopping experience and get amazing bargains. Get access to fabulous products by dozens of talented women under one roof!
'Women of Talent Festival' brings the creative talents of the women of Pakistan to the fore-front. Shop for unique and original products:
* buy exclusive handcrafted items
* decorate your home with fabulous products made of fabric, clay, glass and leatherette.
* get imported cosmetics
* enhance your wardrobe by buying stylish designer clothes
* accessorize your outfit with bags, shoes, jewelry and hair accessories
* relax and savour tasty treats at our food court
Some Highlights:
* Discounts
* Free Entry
* More than 90 Stalls
* Valet Service
* Delicious Home Made Food
* Unique Products by Creative Women
* Fun for the entire family
Event is on Feb 03, 2018 from 2pm to 9pm at The Global Marquees (Castle), Next to FTC, opposite Gora Qabristan, Karachi.
NOTE:
For Attendees:
Events in Karachi does not take any responsibility for Postponing, cancelling or any mishap during the above event. The Above Content is copied from Facebook Events or is shared by User Request.

For Organizers:
We can only remove the above Note, as organizers show receipt of bookings or NOC to the website management.
You can take down the post by request to website management.
Any changes in Content will also be entertained by the website management.

Regards,
Team EiK