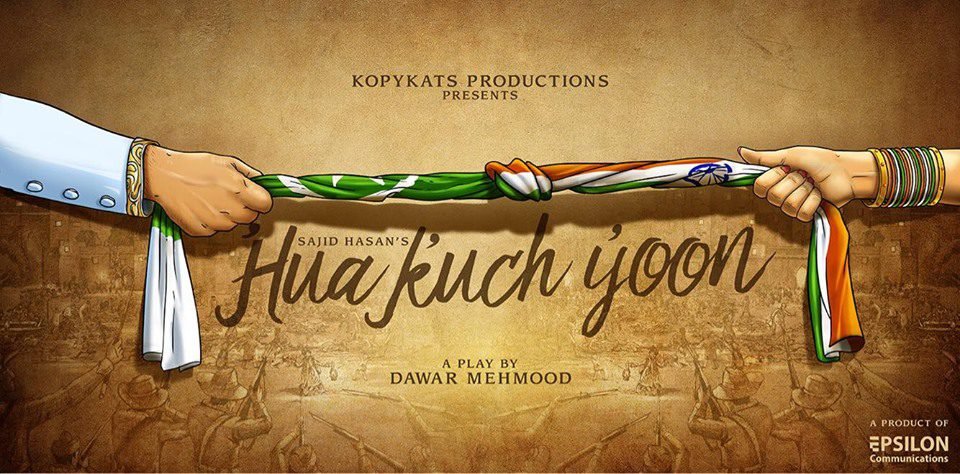 15th February till 15th March 2018.
Tickets Details Available Soon !
————————————————————————
Hua Kuch Yoon is a satirical prelude to Sarhay 14 August Say Pehlay
The play is a fictitious account of two love stories, present day and past, depicting the trials & tribulations of lovers caught up in the revolutionary web, between Pakistan and India. With a humorous angle, it looks at how the lives of people can sometimes be effected by two warring countries.
Mishal & Yasin find themselves dead but alive, after a fatal accident, in a strange place where all is possible, barring a few things. After discovering that they must marry to be together, they decide to tie the knot. However, two strange men, Bunta & Janta, advise them to not to get married. "Why?!", the lovers protest. In response, they are narrated the story of Qurat-ul-Ain & Raja Mahmood,
two victims of Jallianwala Bagh, who survived, & their tragic love story. The play chronicles the events of partition & history, merging them in a wonderful journey of nostalgia that is bound to get tears into the eye.
NOTE:
For Attendees:
Events in Karachi does not take any responsibility for Postponing, cancelling or any mishap during the above event. The Above Content is copied from Facebook Events or is shared by User Request.

For Organizers:
We can only remove the above Note, as organizers show receipt of bookings or NOC to the website management.
You can take down the post by request to website management.
Any changes in Content will also be entertained by the website management.

Regards,
Team EiK