Summer Family Festival will be held in Karachi at National Museum from June 26 to 27. The event will include games, food stall, Magic show for kids,Concert, Official singer Photo booth,Live Performances by different bands lucky draw, Media & PR activity, Designer Stalls and much much more.
Summer Family Festival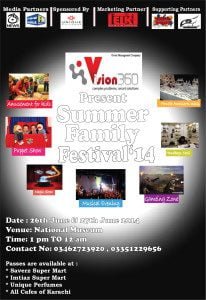 "Make this Summer a meaningful! one"
Event Highlights:
• Photo Booth
• Games and activities
• Food and refreshments
• Designers and other stalls
• DholWala
• Magic Show
• Concert
• On Stage Activities
• Dance Performance
• Branding wall
• Media and PR activity
Note:
– Sharing of stall is allowed.
– Only Two attendees allowed per brand.
(No of people must not exceed from two on sharing stall)
-X Standee Panaflex is allowed.
Brands & Designers are most welcome.
The Guests of the Event would be Designers, Beauticians,Celebrities, Channels (All TV & Print Media) Public Figures and High Profile Personalities.
Stalls Are Available !!
Official Photographers of the Event are:
https://www.facebook.com/msproduction.pk]
MS Photography
https://www.facebook.com/BmThought?ref=br_rs]
BM thought
https://www.facebook.com/pages/HT-Clickss/101565133369604]
HT Clicks
https://www.facebook.com/ShaybeesPhotography?hc_location=timeline]
Shaybee's Photography
For Sponsorship, Stalls and Passes, contact on the numbers given below:
03462723920
03351229659
03213554050