Please join us for a seminar on the origin, history, evolution, art, & philosophy of qawwali consisting of a lecture by Ally Adnan along with demonstrations and a performance by Ghayoor – Moiz – Mustafa Qawwal & Party.
Qawwali – The Song of Love: Seminar & Performance
Thursday, 27 February 2020 from 8 to 11 PM
Alliance Française de Karachi
https://www.afkarachi.com/events/qawwali-seminarperformance
Tickets
PKR 500 (Regular)
PKR 400 (Students)
Buy online: https://bookitnow.pk/event/qawwali-the-song-of-love
Program
Origin of Qawwali
Evolution of Qawwali
Sufism & Islam
Ameer Khusrau's Contribution
Music Basics
Forms of Qawwali
Etiquette of Mehfil E Samaa
Transcendental Ecstasy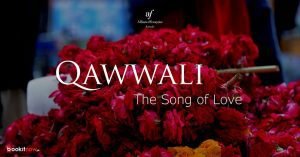 Rung
About the speaker:
Ally Adnan is a well-known art collector, cultural commentator, musicologist, public speaker, and writer. His areas of expertise are art, cinema, dance, music, poetry, Sufism, and qawwali. Ally has conducted extensive research on qawwali and ghazal, and is considered a subject matter expert in the fields. In addition to radio and television, Ally speaks regularly at schools, conferences, and research symposia. His seminars at the Aga Khan University, National College of Arts Lahore, New York University, University of London, University of North Texas, University of Texas at Dallas, Vanderbilt University, and other educational institutions have earned him a name as an eminent speaker, in the academic world. Ally writes for a large number of international publications and is an accredited member of the International Federation of Film Critics (FIPRESCI) and the Dallas–Fort Worth Film Critics Association.
About the qawwals:
Ghayoor-Moiz-Mustafa Qawwal & Party are direct descendants of Miyan Saamat Bin Ibrahim, the first representative and practitioner of Khusravi qawwali, and represent the twenty-seventh generation of the original Khusravi qawwal. Masters of music, poetry and rhythm, heirs to the institution of Khusrau's music, expert musicians, and the torchbearers of the tradition of Khusravi qawwali, the brothers are considered to be the foremost young qawwals in the world today. They are known for the authenticity, purity and fidelity of their musical tradition. The qawwali that they perform is the same as the one practiced more than eight hundred years ago. Nothing has been allowed to change.