Next Dates: 25th May & 26th May 2013 (Sat & Sun)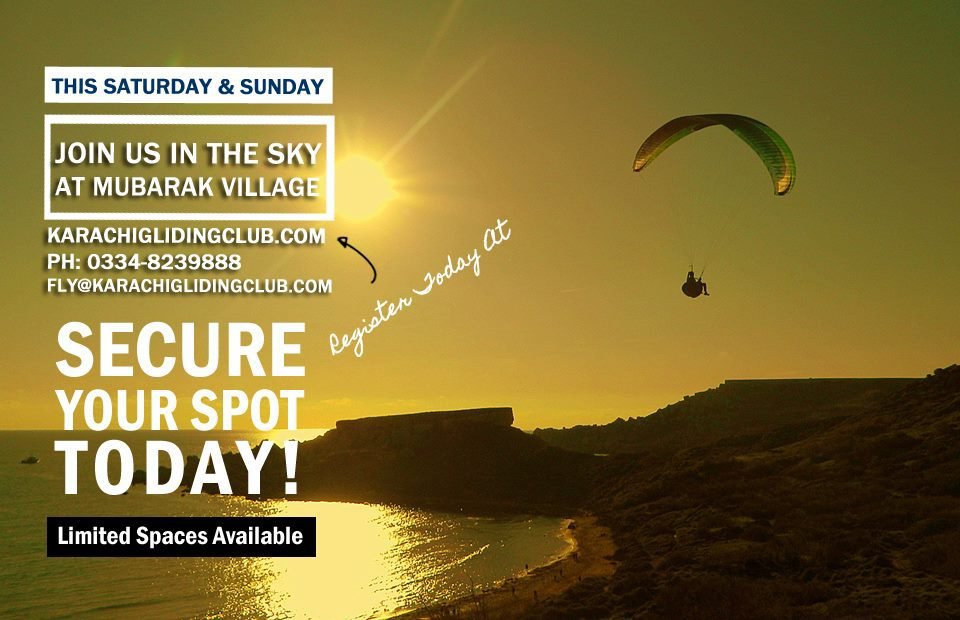 Location: Mubarak Village
Expected Winds: 11 – 15 Kts (Good for Flying)
The wait is over. Karachi Gliding Club brings you an opportunity to experience the joy and mystique of man's oldest dream – free flight!
We're taking registrations for our certified paragliding courses from basic to advance level, under the direct supervision and instruction of our PROFESSIONAL & CERTIFIED TRAINER(S), with over 10 years of experience in teaching paraglider / paramotor flying to civilians and military personnel all around Pakistan.
WHAT'S INCLUDED
* Introduction to Paragliding & Basic Flight Theory
* Ground Handling Techniques & Practice
* Instructor Assisted Takeoff from our Training Hill
* Live In-Flight Instructions via Walkie Talkie
* Professional Instructor & Friendly Crew
* Lunch & Refreshments at our Flying Site
* Course Completion Certificate
REGISTRATION PROCEDURE?
1. Sign Up at www.KarachiGlidingClub.com (Click on GET STARTED Button)
2. Click on BOOK YOUR FLIGHT and select your preferred date & course
3. Make your Payment via a Preferred Mode (www.KarachiGlidingClub.com/payments)
4. Get/Print your E-Ticket and bring it Along with the Copy of your NIC on the Flying Day
Note: You shall also be guided on the above procedure via email/phone if you need help
COURSES OFFERED?
* Basic Paraglider Pilot Course (Rs. 6500)
* Novice Paraglider Pilot Course (Rs. 9500)
* Intermediate Paraglider Pilot Course (Rs. 30,000)
* Advance Paraglider Pilot Course (Rs. 50,000)
//
* Paraglider Tandem Joyride (Rs. 6000)
Note: Find Respective Course & Pricing Details on www.KarachiGlidingClub.com/packages
DISCOUNTS AVAILABLE?
* 10% Discount on Group of 5 or More
* Custom Discounts on Groups of 10 or More
CONTACT
P: 0334-8239888
E: fly@karachiglidingclub.com
S: karachiglidingclub
W www.KarachiGlidingClub.com