Event: Millennium Fashion Exhibition
Dates: 21st to 23rd December 2012
Price per stall: 10,000 for all three days.
Media Coverage included.
Last Date for Payment for stall: 15th December 2012
Family Only entry to Exhibition.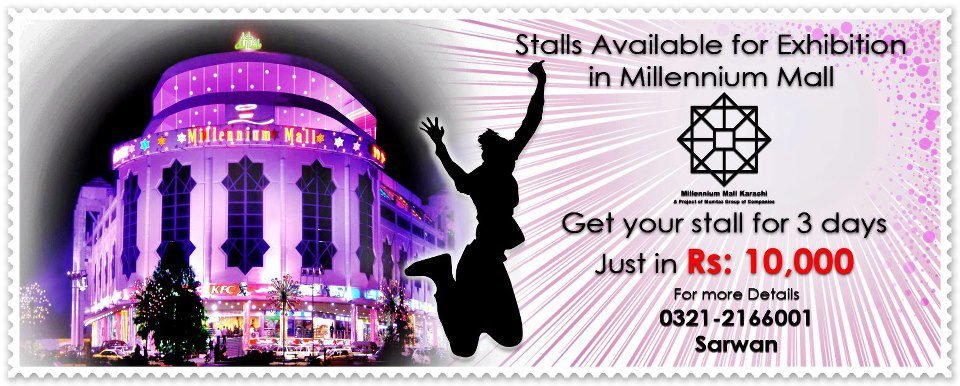 Profile:
Mumtaz Group of Companies is pioneer and renowned evolutionist in the construction industry. With struggling and successful projects around Pakistan, Millennium Mall is one of the oldest foundations of Mumtaz Group of Companies.
Millennium Mall rejoices your shopping experience and lower your level of stress with dreaming your level of sophistication into a redefined shopping atmosphere. Your every trip to the mall will be a revolutionary experience of shopping, fun and entertainment.
Our mall is here to give you that place to travel and explore, where you're refining what you find into something envied. There you stand, a constant curator of trend and sophistication. Quirky yet adorable, you're delightfully personable. Clad in the loveliest of labels, your besties and frenemies alike consider you an excellent brand stylist. "She's so together," they say. So organized on the outside, but it's a little bit of a clutter on the inside, isn't it? Wait, shopping friend! It's okay!
We supply. You curate. We're here to help.
** Idea:
We are providing spaces to those fashion designers who need more public awareness along with business, our target is too ensure our clients with best satisfaction.
** Ambiance:
10 Stalls will be placed following the wall, A Backdrop with logos of all brands incorporating with us. Proper Tables will be provided with lights, slow music to entertain the customer.
** Stalls:
One Table to place their branding along with 1 chair will be provided and space to place 2 hangers.
** Pricing:
10,000 per stall (3 days)
You will be provided a table with space of 2 hangers and a space for your X Stand Branding.
** Last date to get your stall: 15th December 2012
** For More Details, Stalls, Media contact:
Sarwan Baloch
0321-2166001