NED Universitiy in assication with ORIC (NED) is now offering a brand new full-of-fun 30-hours hands-on certificate training course on "Mechatronics: Sense & Move Things with Arduino" to every engineering & science student. Participants will learn working with several Sensors, Motors, Actuators, Keypad, LCD, Bluetooth, IoT, Gears, Pulleys, Assemblies and so on.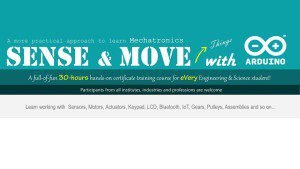 Participants from all institutes, industries and professions are welcome.
Note: No prior experience is required about computer programming, electronics, mechanical or Arduino.

– Fee: PKR 5000/- per participant only for 30 hours training with certificate
– Venue: NED University
– Certificate: NED University
– Expert trainer: Naveed ur Rehman
– Free hardware kits during practice sessions
– 100s of projects, demonstration videos, notes & e-books
ONLINE RESEFRVATION OF SEATS:
Due to overwhelming response experienced in past trainings, we highly recommend you to reserve your seat instantly before you miss this chance. We have very limited seats.
http://goo.gl/forms/NB6tIlOK2B
Registration will open from Thursday, 18 Jan' 2016.
Program degtails are as follow:
– 6th Feb to 6th March, 2016
– Saturday and Sunday only
– Two batches: 9am-12pm and 12pm-3pm
For registration and details, contact ORIC (NED):
99261261-68, Ext. 2356 & 2467 (9am-4pm, Mon-Fri)
NOTE:
For Attendees:
Events in Karachi does not take any responsibility for Postponing, cancelling or any mishap during the above event. The Above Content is copied from Facebook Events or is shared by User Request.

For Organizers:
We can only remove the above Note, as organizers show receipt of bookings or NOC to the website management.
You can take down the post by request to website management.
Any changes in Content will also be entertained by the website management.

Regards,
Team EiK