-Workshop based on self-grooming, marketing, confidence building and leadership skills.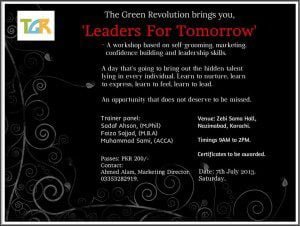 A day that's going to bring out the hidden talent lying in every individual. Learn to nurture, learn to express, learn to lead, learn to feel.
An opportunity that does not deserve to be missed.
Training panel:
Sadaf Ahsan (M.Phil)
Faiza Sajjad (M.B.A)
Mohammad Sami (A.C.C.A)
Passes: 200/-
Venue: Zebi Sama Hall, Nazimabad No. 2, Karachi.
For passes contact: 
Ahmed Alam, Marketing Director
03353282919
Certificates are to be awarded.