After the grand success of Music for Humanity-Rahat Fateh Ali Khan on Nov 5th 2010
At Beach Luxury,
RDB Concert in July, 2010 at Royal Rodale & Area 51
Club Aag Imran Khan Concert in June,
at Marriot & at Royal Rodale, 2010
Ustad Rahat Fateh Ali Khan at Karachi Gymkhana on 30 July 2011.
Yellow Butterfly and the Medical Aid Foundation supported by Metallic Studio Presents
An International Bollywood Icon
KAILASH KHER LIVE IN CONCERT for the 1st Time in KARACHI ON
14TH April 2012

ABOUT THE EVENT:
*Raising funds for building a cancer hospice is our aim.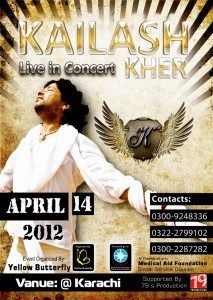 *The purpose of the event is to provide fun and entertainment to Karachi.
*90 minutes LIVE performance by the well known artist 'Kailash Kher'.
*Focused on the existing and potential customer segment for branding
*Secure Venue.
*Magnificent stage with original and innovative set design supported by state of the art audio and visual technological systems.
Expected crowd of approximately 2000 people.
ABOUT THE ARTIST:
Kailash Kher is not only one of the most loved Indian artists internationally, but also among the most respected for his modest and inspiring lifestyle. Kailash Kher is one of the most talented of the new breed of Indi pop singers, started his musical journey from Delhi, where he trained under various classical gurus. His hold on Sufi music has found acclaim in all corners. His rise to fame reflects a rags-to-riches story, where his early days saw him struggle as a homeless resident of Andheri station to the arc lights of Mumbai. He has formed a band named Kailasa with the musician brothers Naresh and Paresh.
DON'T LET-GO A CHANCE TO CAPTURE
ONE OF THE BIGGEST EVENTS IN TOWN
Pass Details:
Kailash Kher Live in concert on 14th April 2012
Single Pass: Rs. 3,500
Student Pass: Rs. 2,999 School or college id to be shown on purchase.
Lounges for 10 ppl :150,000/1,25000/100,000
(Limited Time Offer!!!)
FROM: Agha;s ,Buttler chocolate,Espresso shabaz,Naheed store
Get hold of your ticket now!

Web Partners:
EVENTS IN KARACHI (www.fb.com/events.in.karachi)
For Details:
Atif Marfani  –  03222799102
Alee Pervaiz  –  03009248336
Faran Tahir   –  03002287282