This event is exclusively for IBA & Szabist Students, Alumni's and outsiders (on reference) at an amazing discounted price of PKR 2500/person.
Wide Range International in collaboration with Events in Karachi welcomes you all to an exciting, pleasant and adventure filled Sunday. Come and explore breathtakingly sceneries and exotic marine life at the Churna Island, Karachi and get to learn about the mysterious water-world that lies within.
Try your hand at Snorkeling and experience the exhilarating Cliff Diving. Are you ready to get your hands on Jet-Ski?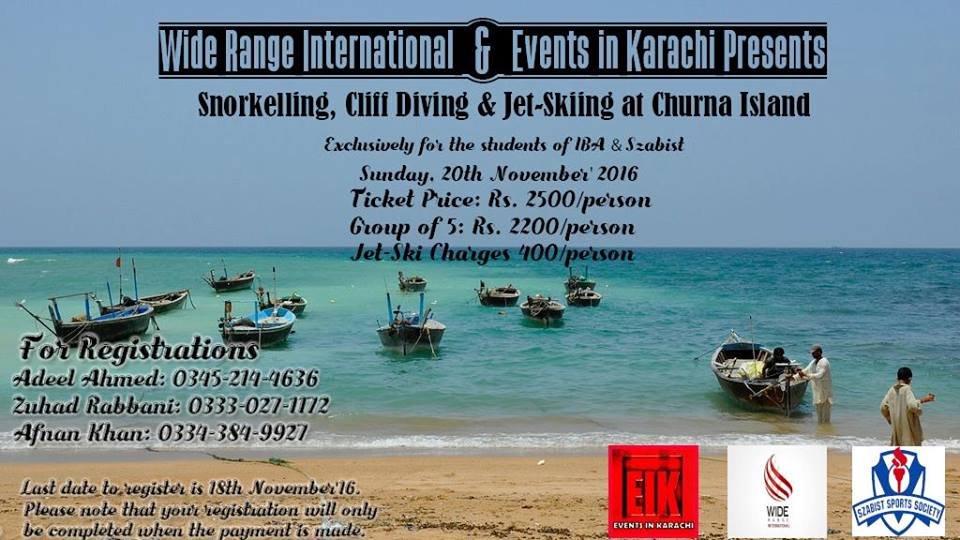 Sunday 20th November, 2016
Last Day for Booking & Payments: 18th November, 2016
Ticket Price: PKR 2500/ person
Group of (5): PKR 2200/person
Jet-Ski Charges: PKR 400/person
Package Includes:
– Pick and drop Service from IBA Main Campus and Szabist, Karachi.
– Breakfast
– Boat Ride (to and from Churna Island)
– Life Guards
– Snorkeling gear (Mask & Snorkel)
– Life Jacket
– Underwater Exploration
– Cliff diving
– Complete Event Coverage
– Professional Underwater Photography
– Live setup of Lunch at the Island.
– Sitting Area
– Water Bottles
– Drinks
– First Aid
For Registrations:
https://goo.gl/forms/725Y9BCiV3LmLZ1B3
*NO REFUNDS ARE POSSIBLE UNDER ANY CIRCUMSTANCES
For Queries:
Adeel Ahmed (IBA): 0345-214-4636
Zuhad Rabbani (IBA): 0333-027-1172
Afnan Khan (Szabist): 0334-384-9927
Students of other universities can register in groups only and on references.