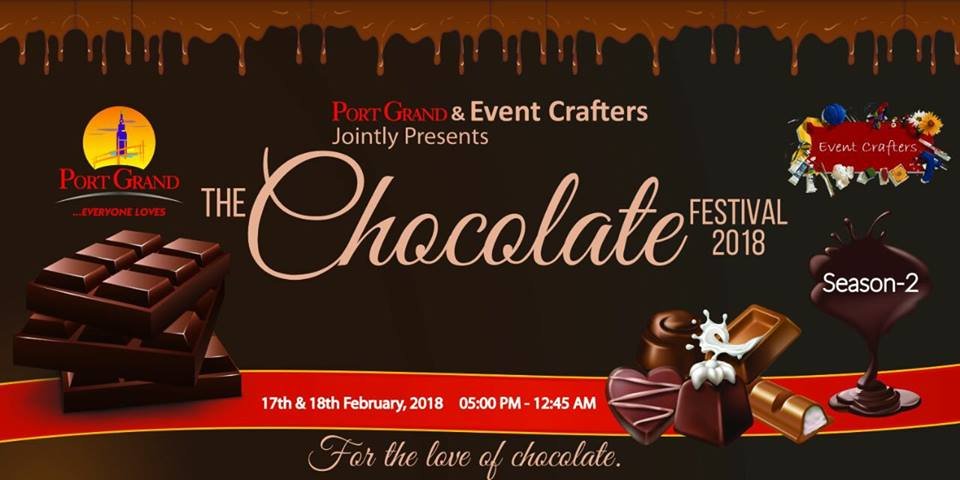 " THE FESTIVAL OF CHOCOLATE "
LETS CELEBRATE WINTERS WITH THE " SWEETNESS OF CHOCOLATE…… N TASTE ALL THE GOODNESS OF CHOCOLATE…….
>Chocolate products
> Chocolate desserts
Cakes
Cupcakes
Donuts
Ice Creams
Yoghurts
Milk shakes 
Parathas
Tea
Cookies
Churrro
Brownies
Chocolate Pizza
Pie
Chocolate Fountain
Homemade chocolates
(And more than you can Imagine)
> Live cooking by a celebrity Chef
> Boutiques (Brown Theme dresses, T Shirts)
> Accessories ( jewelllery , shoes , hand bags , handicrafts ets in Brown Theme)
> Kids Gaming Zone
> Gifts
> Lucky Draws
> Brand Activation stalls
> Musical Concert
> Media Coverage
> Celebrity Appearances
> Chocolate Carpet
> Best Chocolate, Valentine Theme dress Prize.
NOTE:
For Attendees:
Events in Karachi does not take any responsibility for Postponing, cancelling or any mishap during the above event. The Above Content is copied from Facebook Events or is shared by User Request.
For Organizers:
We can only remove the above Note, as organizers show receipt of bookings or NOC to the website management.
You can take down the post by request to website management.
Any changes in Content will also be entertained by the website management.
Regards,
Team EiK