The Josh Tours & Royal's Adventure Club (RAC), brings you the exclusive event " BEAT THE HEAT " at Karachi's largest and best Farm house " COUNTRY SIDE CHALTE ".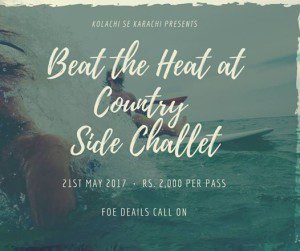 =================
PASS: Rs. 2,000/-
No Furher Discoun, either you buy 1 pass or 10 pass.
condiions apply
=================
WHEN
======
Date: 21st May, 2017
Time: 07:30 AM TO 06:00 PM
=======================
WHERE
======
Country Side Farm House
======================
For Details:
Hammad Shakil
0333-3594811
Zahid Iqbal
0333-741355
Gulmehak Aslam
0331-393852
=======================
EVENT PLAN
===========
– 07:30 AM: Gathering at Boat Basin
– 08:00 AM: Sharp Departure for Country Side Cahlet
– 09:30 AM: Arrival at Farm House
– 01:30 PM: Buffet Lunch
– 03:30 PM: Wrap Up the things
– 04:00 PM: Departure for University
– 06:00 PM: Arrival University =================
WHAT INCLUDED ?
=================
AC Luxury Transport
Bufett Lunch
DJ
Swimming Pool
Rooms
ATV Buggy
Dinning Area
Indoor Games
Lake Side Area
Bird Aviary
Lounge Area
Tong Ride
Mushroom Area
Cricket Ground
Package doesn't Include:
✗ Fuel if Bringing Own Car
✗ Items of Personal Nature
✗ Life Jackets / Swimming Goggles
✗ Hiking / Trekking Equipment
✗ Anything Not Mentioned
Payment Mode:
Payment via online bank transfer or, direct bank deposit to the following bank account
Account # 0360746001
Account Title: The Josh Tours
Bank Name: Dubai Islamic Bank Land Mark Plaza I.I Chandrigar RoadChandrigar Road.
Account #: 1234-1234-211275376
Branch Code # 1234
Account Title: Hammad Shakil Khan
Bank Name: UBL Al Rehman Brand I.I Chandrigar Road.
Confirm your Payment by sending us the Payment
Receipt via Whatsapp on 0333-3594811 or Email us on info.joshtours@gmail.com OR just sms.
REFUND/CANCELLATION
**********************************
– 100% Refund if Cancellation 7 Days Before the Event
– 50% Refund if Cancellation 5 Days Before the Event
– 30% Refund if Cancellation 3 Days Before the Event
– 0% Refund if Cancellation Less than 2 Days Before Event
Terms and Conditions:
————————–—
• Every member must keep his/her CNIC.
• Member should report 30 mins before departure time.
• Member must behave ethically with his/her fellow group members, otherwise The Josh Tours can cancel his/her trip at any time.
• TJT is not responsible for personal injuries and accidents.
• TJT is not responsible for loss of any kind of valuable item.
• No refunds shall be made in case a member leaves the trip during the event.
• No refunds shall be made in case of a natural disaster or any unforeseen circumstance beyond human control including but not limited to rains, storms, land sliding, accident, flat tyres, engine failures or other vehicle mal-function e.t.c.
• TJT can cancel booking at any time.
• TJT can change terms and conditions at any time without prior notice.
• Personal weapons/drugs are strictly prohibited.
NOTE:
For Attendees:
Events in Karachi does not take any responsibility for Postponing, cancelling or any mishap during the above event. The Above Content is copied from Facebook Events or is shared by User Request.

For Organizers:
We can only remove the above Note, as organizers show receipt of bookings or NOC to the website management.
You can take down the post by request to website management.
Any changes in Content will also be entertained by the website management.

Regards,
Team EiK