Emerging talent of Indus Valley School of Art and Architecture- Department of Communication Design is showcasing and putting a sale of their precious Artworks at T2F Cafe on 3rd and 4th March, 2012.
The works will include Photographs, Illustrations, Digital paintings, Postcards, T-shirts and Other Art works. The Bazaar will also include Fatahyab Rehman (a Caricature Artist) who will sketch your caricature on the spot so You all are cordially invited to be a part of this ART BAZAAR!:)
The Emerging Artists and Photographers who will exhibit their work include:
Anushay Furqan
Saad Saif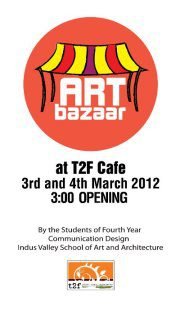 Mustafa Sheikh
Asma Javeri
Nadir Toosy
Mahwish Rizvi
Numan Shakil
Masooma Raza
Amal Sarwar
Sanaa Mohamed
Sonia Khan
Nazneen Tayeb
Sumra Jehan
Zubairuddin Shaikh
Viviana Natalie Rodrigues
Anam Qadri
Anosha Islam
Maria Qureshi
Mariam Shakeel
Suhaib Rashdi
Lubaina Rajbhoy
Anam Murtaza
Wajeeha Abbasi
and more!
Venue: T2F- The Second Floor.
Address: 10-C, Sunset Lane 5, Phase 2 Extension, DHA, Karachi.
Directions from Sunset Boulevard:
• From Sunset Boulevard, on the way to Korangi Road, turn right at 8th Sunset Street (the last traffic signal after the Defence Library before hitting Korangi Road)
• Take the second left at Sunset Lane
• Take the first right at Sunset Lane 5
• The building has a red brick exterior and there is a Utility Store right opposite.