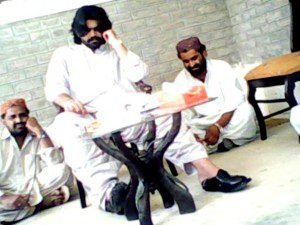 According to Reports:
The Guy who Came Face to Face: You don't know who I am.
Taleh Bughti Replied: "You don't know who I am,"
What happened next is somehow a matter of confusion. What is somewhat clear is the outcome of that fated night: At least six people, including Taleh, the grandson of  Nawab Akbar Bugti, were shot dead and nine others were injured.
What Police Says:
Police says Taleh Bughti Son of Saleem Bughti was invited in this party arranged by Arif Raajar, & Taleh was invited by Faisal the Co-Host of the party, however Arif had his own guards as gate security but he was not pleased to see Taleh in this party as they had old  history of bad blood.
Taleh & Zarmaan went inside the party, Later on wards Taled Demanded some of his friends & a cousin Zahid Butt to be allowed in despite of Rajaar's many objections & he started kicking around the sound system & the setup this made Rajaar's Friend DR M Iqbal angry and he fired in the air. Taleh, who was armed himself, responded with his own weapon and shot straight at Iqbal. Iqbal fired at Taleh and killed him with two bullets . Three more people, including two waiters Mark Joseph and Kamran Shafee, and Kamran Gull went down in this shootout.
Between 30 to 40 young men including Taleh's Friends and his security, flooded the waiting reception at South City Hospital around 3am when Taleh was brought there.
A doctor had informed Taleh's mother that he had been brought in without a pulse. There was a single bullet which had entered the right of his chest and exited through the left of his back. His lungs were punctured and had filled with blood and doctors estimated he lost up to 200cc. They went to work to try to resuscitate him, fearing for their lives. "We'll burn down this place," the men had said. "Do whatever you need to, but save him."
"Don't kill us," one of the doctors had retorted. "Go kill the man who did this to your friend." One of Taleh's companions had the presence of mind to get the angry men out of the ER to let the doctors go back to work.
When his death was pronounced, a shriek pierced the quiet scrubbed cleanliness of the hospital. A man burst through the swing doors of the ER with his cell phone jammed to his ear. "He's dead! He's gone!"
Police Case:
Police were forced to delay filing the case till 7pm, as DIG Mehmood said no one was coming forward. According to Gizri DSP Zameer Abbasi, FIR No. 192/11 with Sections 302/34, was lodged on behalf of the State in the end. Nine people have been apprehended. However, none of them included any of Bugti's guards or Raajar himself. Only one 9mm pistol has been taken into custody.
Accused Zahid Butt, held at the Darakhshan police station, had a gaping wound in his right arm, which was dressed at Jinnah hospital. According to him, Taleh and Raajar were on good terms, and there was third party, which was trying to crash the party. "I hugged Raajar myself," he said.
According to Butt, he was told by his cousin to stand outside and inform him when his friends arrived. "I was standing near the gate, when some people started hitting me with guns," he said. "The firing began suddenly and as I rushed inside, I saw my cousin lying in a pool of blood.
Another suspect:
says he just happened to be at the wrong place at the wrong time. "I always wanted to see a dance party and was told by a friend to buy the Rs3,000 ticket," he said. Awad, who has his own garment business, said he was in the washroom when the shooting began. "Suddenly everybody started rushing in and wanted to hide and lock themselves in rooms or bathrooms," he said.
A 20-year-old man was on the verge of tears at the police station. He thought the Taliban had attacked the dance party. "I hid under the cabinet of a kitchen sink and prayed the bullets wouldn't hit me," he said.
Kamran's father Gul was at a loss of words to explain who killed his 22-year old son, who ran mobile phone shop. "These days children don't tell their parents where they are going. All they say is, 'I'm with a friend and will be coming home late.'" A friend told The Express Tribune that Kamran was close to Arif Raajar and went to the party on his invitation.
Irfan alias DJ Savvy was being held at Gizri PS. However, his father Mr Siddiqui was too embarrassed to talk about the case and instead said that the 'media shedia' was a pain.
About the Venue:
The party was held at house No. 121, 7th street, Khayaban-e-Rahat in Defence Phase VI.
The house is owned by a man named Nasir, who is now in the custody of the Gizri police. Nasir used to rent it out for between Rs20,000 and Rs30,000 a night.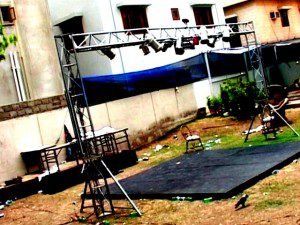 Exactly opposite the house is the mansion of Federal Minister for Petroleum Naveed Qamar's brother, who declined to comment. However, Abdullah Javed who lives nearby told The Express Tribune that many parties have been held at No. 121. "However this time around, it was different and it was evident that an extremely grand party was taking place," he said, adding that there must have been at least 60 cars parked outside and many guards with heavy machine guns.
Abdullah at around 1:30am heard people demanding to be let in at No. 121. He went inside but just as he was about to lie down, the gunshots rang out. "There was utter chaos. People were running for their lives. Young guys and girls were jumping into their cars and some ran barefoot," he said. According to him, the heavy gunfire continued for at least 15 minutes. "I saw them shifting an injured man in a Honda Civic," he said.
The victim Dr M Iqbal and the accused at large Arif Rajarr are said to be close to Pir Pagaro's Pakistan Muslim League-Function. However, a PML-F official denied that any of them had links with their party.
A case was registered against Taleh three months ago at the Darakhshan police station for a minor fight in the neighborhood. Bugti lived in his family house on 26th Street.