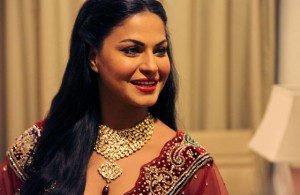 Veena Malik has now turned international pop singer after she launched her first single album "Drama Queen".
At the launch of her first single music album "Drama Queen", Veena Malik stepped on stage in a traditional red lehenga, she is never seen wearing before. But soon after she appeared in a white miniskirt and set the stage on fire with her killing performance, singing one the songs from her music album. Getting hot and sexy, she shaked her body with every beat of the song and was very excited about her new achievement.
"it's a very special day for me, my first single album Drama Queen is launched and I am the real Drama Queen and I think this title suits me well," said Veena Malik.
Veena is ready to show her drama after releasing of her album that she is the only drama queen ever. She is going to beat every drama queen in Hollywood and Bollywood to be on the top of all.