Polaroid's combined point & shoot size with instant print magic to create the ultimate party camera.The Polaroid Z2300 is the smallest digital camera we've seen that delivers instant prints. It uses Premium ZINK paper that can't be accidentally exposed, costs less per shot than Polaroid film and has a peel-off sticky back . Print your favorite shots and save everything directly to the camera or your SD card.The Z2300 is a lot more compact than the old Polaroid models. The 10-megapixel camera measures 4.65 inches wide by 3 inches tall by 1.36 inch thick. It's too big to fit into a pocket, but it easily slips into bag or purse. Customize your 10-megapixel images: crop, add borders, or use the color filters for some serious par-tay. The Z2300 takes video too! All this comes in a sleek package the size of a point & shoot complete with the iconic Polaroid rainbow.The Z2300 has a viewing screen on the back that shows a 2×3 border, so you can better frame your pictures.
It takes less than a minute for the camera to print a photo from start to finish, but the picture comes out fully developed, so you no longer have to wait for an image to appear. The photo paper also has a smudge-proof, water-resistant coating, and comes with an adhesive backing if you want to turn it into a sticker.The Z2300 offers a number of features found on regular digital cameras, such as a self-timer and flash. And this camera's lack of an optical zoom means that its lens doesn't physically move to zoom. Digital zoom simply enlarges an already-captured image and, as a result, it degrades the quality of the photo.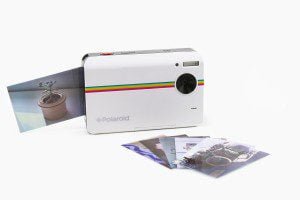 There are numerous photo-editing options. You can add various color effects, such as sepia and black-and-white. There's a setting to print multiple photos on one print, and you also have the ability to add fun borders to your pictures, including the classic Polaroid white border. Just be aware that adding a border or printing multiple images on one 2×3 sheet will make your image even smaller.It certainly falls in the nice-to-have pile rather than the must-have category, and some might simply find it to be gimmicky.