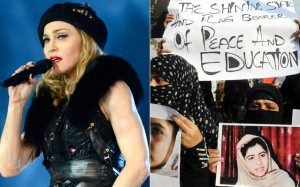 Madonna brought her eye-popping MDNA Tour to L.A.'s Staples Center on Wednesday night, where she dedicated a song to Malala Yousafzai, the Pakistani child activist shot in the head and neck on Tuesday by a masked member of the Taliban.
Dressed in a leather skirt and black beret, the music icon took a break from the evening's theatrics to tell the sold-out crowd of 18,000 that it was time "to have our serious chat."
"This made me cry," Madonna said. "The 14-year-old schoolgirl who wrote a blog about going to school. The Taliban stopped her bus and shot her. Do you realize how sick that is?"
"Support education! Support women!" she shouted, to the crowd's cheers of approval.
Yousafzai, one of the most outspoken and influential advocates for girls' rights to education in the Middle East, remains unconscious in a hospital since the shooting. Pakistani Taliban spokesman Ehsanullah Ehsan said of the assassination attempt, "Let this be a lesson," and pledged that the Taliban would try again to kill her should she survive her injuries.
Later in the show, Madonna performed a striptease, during which she turned her back to the audience to reveal the name "Malala" stenciled across it.
"This song is for you, Malala," she said, then launched into "Human Nature."