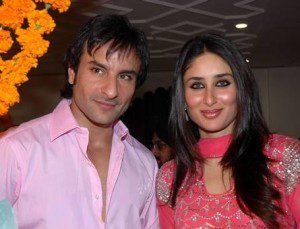 The title will anger the Hindus but the facts are now here as 'Bebo' has hinted that she will indeed embrace the religion of peace, Islam, once she marries fellow Bollywood actor Saif Ali Khan. Kareena Kapoor was initially reluctant about revealing her plans about her possible conversion to the media but finally decided to spill the beans.
It shouldn't be forgotten that Kareena Kapoor's would-be mother-in-law Sharmila Tagore converted to Islam after marrying hte cricketer Mansur Ali Pataudi and changed her name to Ayesha Begum. Even Saif's first wife Amrita Singh did the same once she married. Regarding Kareena's intentions of doing the same, her family has become strictly against her and some have even boycotted her wedding which is to take place on the 17th of October this year.
Although Kareena has no plans of changing her name unlike her mother-in-law. However, she does plans to add the name 'Khan' once she ties the knot with Saif Ali Khan. Kareena says, "Saif doesn't want me to change anything about myself, including my name, after marriage. So I will be Kareena Kapoor Khan. That means I have the privilege of having two of the most powerful surnames in Bollywood attached to my name. My signature will have a triple K — KKK."
Well, that's a great news for us and we wish all the best to Kareena and Saif for their wedding and Kareena's conversion to Islam.