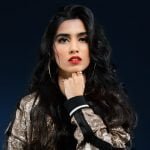 Nida Gul Khan 19-year-old, a very young artist, who pursue her career in singing. She described her hobbies I.e. singing, painting, photography, swimming, travelling etc. The few questions were asked from her, one of the questions is what do you do in your spare time and do your work effect your sleep cycle? She answered that she loves to spend time with her family, in the meantime she loves to hang out and go to a long drive with her mother. however, she mentioned that yes! Her sleep cycle gets effected during her work.
She further said that she does not belong from a showbiz family and did not know anything about the music industry, it took her efforts to search and understand how the music industry works. Nida Gul Khan mentioned that she faced the biggest problem while joining the industry was, she belongs to Pakhtoon family and she had to pass from the conservative decisions from her family member to choose singing as her career Nevertheless, she finds herself content to see her family support in her career now.
Another question was asked about her inspiration and what genre she like to sing? She replied, her first inspiration is "POEM". Her first memory of music belongs to POEM, she described that she is interested in music since her childhood and won awards in her school and college time.  She adopts the singing style of the poem which she used to listen at an early age. Her friends play an important role in building her career, who encouraged her to sing.
Nida Gul Khan admired singing in different genres and languages, she believes that the "Music is endless and without any limits like an ocean" that is the only reason she loves to sing in different languages and genre. However, she loves to sing Pashto and Farsi songs. She added in her answer that, her playlist contains Pakistani, Indian, Afghani, Iranian, Farsi and Pashto songs.
Nida Gul Khan debuted her First song "Ranjha mera".(It is a great song, Indeed!)
Nida Gul khan loves perform in concerts, for that she does jamming sessions with her musicians before gigs.
Nida is a great learner, she always welcomes an opportunity to learn from her seniors and has great respect in her heart for her senior singers and musician.
Nida's career based on a piece of advice from her mother and teacher, they cited
that "pride hath a fall, always be kind, down to earth and embrace politeness"
Khan quoted that "being an artist I feel lucky when people love me a lot, When my fans meet me they show their love, prayers and respect for me.  I am thankful to "ALLAH" he let me stand on my feet's and conquer my dreams. "SHUKAR ALHUMDULILLAH" furthermore she dropped a bit of advice to new singers that, "always respect your seniors, work hard and never give up on your dream, success comes to those who stick their feet's deep down and eyes towards the sky"
Nida Gul Khan was questioned about her success mantra and where she sees herself in 2020? She generously answered that she has no success mantra but just 100% faith and believe in Allah. She believes, if a person has faith then nothing is impossible perhaps she said that she does not know where she will be in 2020 but she feels that there is a bright star shining in her way. (We wish her good Luck)
Our admiring young artist showed much love to Events in Karachi and share a beautiful message with their audience that is "keep supporting Pakistani seniors and new artist and I am grateful to Events in Karachi for publishing my article".
Facebook Page: Nida Gul Khan
Instagram: nidagulkhan.official
Youtube channel: Nida gul khan
Twitter: Nida Gul Khan
Email: nidagulkhan05@gmail.com