Green Day's lead singer is seeking treatment for substance abuse, the rock band announced Sunday, two days after the performer's expletive-laden meltdown during a show in Las Vegas.
The band said on its website that Billie Joe Armstrong, its charismatic frontman, would get help for substance abuse, though it did not specify the nature of his problems.
Substance abuse, also known as drug abuse, is a patterned use of a substance (drug) in which the user consumes the substance in amounts or with methods neither approved nor supervised by medical professionals.
The announcement follows Armstrong's on-stage meltdown on Friday during the iHeartRadio Music Festival at the MGM Grand.
Video from the event, captured on YouTube, shows Armstrong cursing profusely after cutting a song short. He then goes on a profanity-filled rant, pointing to a sign indicating Green Day had only one minute left in its set, far shorter than he'd expected.Whilst performing on Friday night in Las Vegas, the rocker appeared to throw a tantrum when a crew member held up a sign reading "1 minute".
He yelled: "You're gonna give me one minute?! I've been around since f**king nineteen eighty f**king eight, and you're gonna give me one minute?! You've gotta be f–ing kidding me!
"I'm not f**king Justin Bieber, you motherf**kers! Let me show you what one f**king minute f**king means!"
He then smashed his guitar on the ground and stormed off stag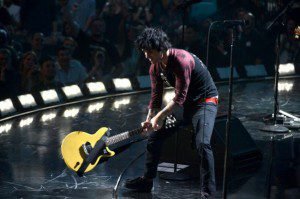 Green Day references the meltdown in its website message.
"We would like everyone to know that our set was not cut short by Clear Channel and to apologize to those we offended at the iHeartRadio Festival in Las Vegas," the band said. iHeartRadio is a division of Clear Channel Broadcasting.
It wasn't clear how the development would affect Green Day's upcoming tour, which is set to kick off in earnest November 26 in Seattle, though the band did say it "regretfully must postpone our upcoming promotional appearances."
Nor is it known how it might affect NBC's singing talent competition, "The Voice," on which Armstrong had been slated to be a mentor to participants.
Armstrong was rushed to a hospital in Italy earlier this month "due to illness," Green Day bassist Mike Dirnt said then in a video posted on the band's website