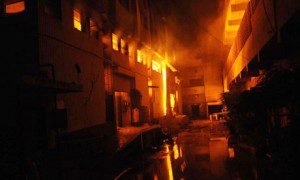 This indeed is the worst catastrophe in Karachi till now. The death toll from a garment factory fire in Baldia Town, Karachi rose to 298 as more bodies were recovered from the gutted building. About 1000 workers were reported to be in the factory and three of the four doors of the factory were closed to avoid theft on salary day and the lights were shut off. Eyewitnesses also tell that 3 blasts were heard from the factory and then a fire broke out on 11th September 2012. They could hear the poor workers screaming for help but since it was a third degree fire, all the attempts to put off the fire failed.
 After almost 25 hours the fire was successfully put off by the firefighters and rescue teams and the search for the bodies begun. An unknown fireman also expired during rescue work at the affected factory. Ameen Memon, an Edhi worker, said that most of the rescue team burnt their hands while trying to carry the smoldering bodies recovered from the factory – "the bodies were iron hot. We got burnt even if we tried to carry them to the ambulances with the help of some cloth. The skin of the victims started peeling off and in some cases, their body parts turned into ash".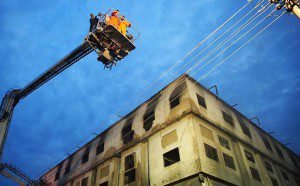 The rescue teams have failed to reach and search the basement of the ill-fated factory because the temperatures were too high and the water was boiling hot. It was feared that more bodies might berecovered from basement and other locations of the factory where rescue workers could not entered due to some reasons.
The owner of the Ali Enterprises, Shahid Billa, is still at large and law enforcement agencies have no clue about their hideouts. All police raids remains fruitless and the provincial government has put their names in Exit Control List.
 Several bodies that got identified were discharged for burial while hundreds of bodies still remain unidentified. Even their loved ones could not identify the bodies as they were completely charred. Emergency was declared at Jinnah Hospital, Civil Hospital and Abbasi Shaheed Hospital where all the found bodies are still being taken.
298 is not just a toll figure, it's the death of these hardworking people who don't beg but work to earn themselves a living. Hundreds of families lost their loved ones, who were a brother to someone, a father to someone, a son to someone and a husband to someone. The number of casualties is not yet finalized as the rescue teams are still working to recover the bodies from the basement and other areas. The list includes women and children also.
This is one dark day for Karachi. Team EiK prays for all the lives lost and for families of the departed. May Allah grant the departed a high status in Jannah and grant patience to their families, Ameen.
We will keep you updated with further happenings and reactions about this incident.