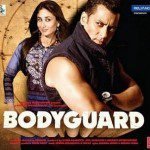 Salman gave bollywood cinema big numbers of hits like, Wanted, London dreams,dabangg and recently released a blockbuster Ready which had crore's of business in the first  week of release. After this blockbuster, his new movie BODYGUARD was released on this  EID-ul-Fitr which has been a craze among his fans.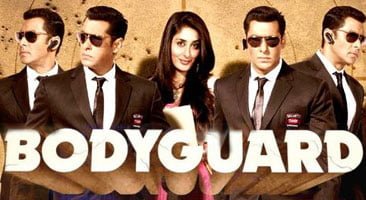 Bodygaurd is a remake of a malyalam hit movie with the same name BODYGUARD. Both  movies are directed by Siddique. In this movie you are going to see  Salman as a  bodyguard of kareena kapoor, Salman is  wearing a dark grey suit as an uniform of  shera's company which is  basically his bodyguard's name.
Yes Salman was offered 8  crores from different security companies to use their name for  his uniform but he  choosen his bodygaurd's name who is very close to Salman Khan.
Music:
And Himesh reshamiya  took a re-entry in this field, the music is directed by Himesh Reshamiya and one  song is directed by pritam. This Film is co-produced by Reliance films and Real life  production pvt ltd (Salman's brother in law Atul Agnihotri's production house).
Movie in Words:
The story begins, Salman (Lovely Singh) has a very strange habit, he always tries to  move with a person as sort  of a bodyguard whom he has developed an inspiration into himself. He  starts admiring Ashokan (kareena's Father) whose a former  liquor tycoon and a  leading businessman. Salman wants to be Ashokan's bodygaurd but he doesn't need any
bodyguard. Then later on Salman approaches Ashokan with the recommendation from  someone he can't refuse. He achieves his luck  by savig Ashkan from a danger, but as  Ashokan doesn't need any bodyguard he assigns him as (Kareenas) his daughter's  bodygaurd. Salman follows Kareena to her college and everywhere, kareena gets  irritated with his following nature. Then  Kareena starts teasing him with help of her friend Rose. She starts making wrong calls and pretends as his true lover. Later Salman starts falling in love with kareena and so she does. Then they decided to leave the city after Kareena's college  examination. Rose encourages kareena to meet Salman and reveal her identity. Things got confusing and somehow, Ashokan finds out that Salman and his daughter are trying to run away together. In order to save Salman's life she lies that  it isnt her. Salman is gonna meet some other girl on the station, Ashokan lets Salman go and ordered others to kill him if the girl doesnt show up. Kareena tells her friend Rose to go to the station and inform Salman that Kareena is the lover but she cant make it to the station. As rose saw Salman, falls in love with with him and tells him  that she is the lover. Kareena tried to contact her, she calls her twice but she throws her cellphone out to erase Kareena from her love life. Years later, after Salman and Rose's marriage she gives a birth to a baby boy and dies, she leave a diary for his son, as Rani did in "kuch kuch hota hai". He reads the diary and comes to know the whole love story of his father and Kareena. Later his son goes to Kareena's house with Salman to see Ashokan and asks Kareena to get married with his Father. Salman gets shocked and angry on him, Ashokan begs Salman accept her daughter as his wife. So then they leave for the station together but his son runs and throws the diary in the dustbin and Salman finds the dairy and relizes his real love, who waited for him for so many years who was Kareena.
ARTICLE BY: RJ ALINA