Service makes Street View available once again to iPad and iPhone users – without the need to download an app
Comes as Apple continues to struggle to improve its own maps app
For iPhone and iPad users exasperated by Apple's maps app, it could come as a welcome relief.
Google today dramatically updated its web-based maps app – which iPhone users can access through their phone's web browser.
The search giant made its Street View product available on mobile web browsers in a bid to lure users away from apple's maps service, which has come under fire from users for its poor maps and distorted images.
The maps include all of Street View's data, including the ability to walk round inside certain venues, such as this San Francisco bar.
'To make Google Maps even more comprehensive, accurate and useful, today we're making Street View available on mobile browsers,' Amanda Leicht, Product Manager Google Maps wrote.
'With access to Street View on your phone, you can use panoramic, street-level imagery to explore and navigate the places around you, even on the go.'

The move is aimed squarely at Apple, which was last weeks forced to admit its own version of the Maps apps was a failure.
Google is believed to be working on a map app of its own after Apple dumped it from the built in maps app on iPads and iPhones.

In a letter published on Apple's website, CEO Tim Cook said the firm 'fell short' on the product, and was 'extremely sorry'.
'At Apple, we strive to make world-class products that deliver the best experience possible to our customers,' he wrote.
'With the launch of our new Maps last week, we fell short on this commitment.
'We are extremely sorry for the frustration this has caused our customers and we are doing everything we can to make Maps better.'
Mr Cook took the unprecedented step of advising users that other products were available.
'While we're improving Maps, you can try alternatives by downloading map apps from the App Store like Bing, MapQuest and Waze, or use Google or Nokia maps by going to their websites and creating an icon on your home screen to their web app.'
The firm also changed the description of the Maps app on its site, removing references to it being the 'most beautiful, powerful mapping service ever'.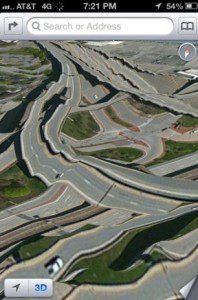 A difficult road ahead: Apple's maps have been slammed for their poor location information and distorted images, forcing the company into issuing an apology.
.