Studio Maxx Presentations & Island Sensation, are celebrating one of the most romantic day of the year for all the love ones.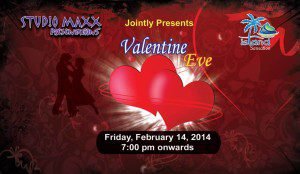 'VALENTINES EVE' – A romantic atmosphere, to express your love and affection for your Partner.
An evening to be lost in love forever, under the moonlight and shining stars with water waves splashing can be heard and sea breeze can be felt.
Party, Dance and hip hop with mesmerizing sound, superlative lightning, DJ and Mock-tails.
Day & Date: Friday, February 14 '2014
Timings: 7 p.m. Onwards
Venue: To be disclosed to Pass Holders only (High Security Arrangements)
Entry Passes shall be available from January 27 '2014.
The access to the Venue is through Car as well as Sea Cruise. Therefore, there are 2 different passes. The cost of the Entry will be informed to the Person at time of Pass purchase.
Sea Cruise Passes are LIMITED.
Lucky Couples will receive Prizes through Draws. Also, there will be Gifts for the Best Dressed Male and Best Dressed Female (Organizers shall only have the right to choose)
For Further Event Details, Passes & Delivery, please contact:
Studio Maxx Presentations:
– 0300-2258166
– 0332-8258516
Island Sensation:
– 0331-2284668 Saadi Shafiq
– 0336-2113201 Agha Usman
HOPE TO SEE U ALL THERE, WITH UR LOVE ONES!!!!!!!