"UMEED KI KIRAN"
A SPECIAL CONFERENCE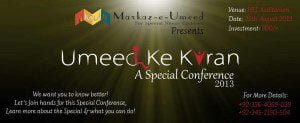 Markaz- e-Umeed is proud to bring to you its first Disability Awareness Conference "A Special Conference" on August 25th 2013 at Hej Auditorium, Karachi.
Markaz-e-Umeed is organizing a charity based awareness event, aiming to provide maximum learning opportunities to the participants & to aware about the cause. The whole idea behind "Umeed ki kiran" is to generate funds for the disabled children studying at Markaz-e-Umeed Schools and to aware the cause among youth. Markaz-e-Umeed which likes its name has given more than just hope to its children as well as their families. More than four decades of spreading the light of hope.
The event will include the following activities:
Art work.
Networking.
Lunch.
special children's performance
Theater play.
Panel discussion.
Training session.
Awards distribution
Activities.
Motivational speeches.
A Social Cause Play.
Social Expo meet up.
Coming to this conference means you are investing just Rs. 300/- for:
Your personal development
Entertainment
Lunch
Networking
Certificate
Work for a cause
INVESTMENT STRUCTURE:
PKR 250 Per Head- From Starting Upto 31st July
PKR 300 Per Head- From 1st August To 15th August
WE WANT YOU TO KNOW BETTER!! LET'S JOIN HANDS FOR THIS SPECIAL CONFERENCE, LEARN MORE ABOUT THE SPECIAL AND WHAT CAN YOU DO !!!
REGISTER YOURSELVES AS SOON AS POSSIBLE BEFORE TICKETS GET SOLD OUT AND YOU WILL MISS THE CHANCE TO ATTEND THIS MAGNIFICENT EVENT 🙂
HURRY UP GUYS!!!
LAST DATE TO REGISTER IS 15TH August
https://docs.google.com/forms/d/1WEzsDgSpu6lzg704lKERFbNbIOrlR2YD3Mdil2YrTrA/viewform
The net proceeds of the tickets purchased will directly go in the charity.
Join us to spread awareness about "disability", on Sunday, 25th August 2013, from 10:00 am till 04:00 pm at Hej Auditorium, Karachi University
For further details contact:
AHMED RAZA: 0336-4069039
SEHRISH TASNEEM: 0323-2168894
MUJAHID: 0345-2150504
To know more about Markaz-e-umeed visit our website www.markaz-e-umeed.com.pk
or our FB Page https://www.facebook.com/MarkazeUmeed
For More Updates, Join Our Official Facebook Pages!
1) AHMED RAZA
https://www.facebook.com/ahmedraza911
2) SEHRISH TASNEEM
www.facebook.com/sehrish.tasneem?fref=ts
3) MUHAMMADMUJAHID
https://www.facebook.com/mujahid.safi?fref=ts
Regards,
Event Organizers