After The Record Breaking Success Of the Uniquely Mystical Experience, A Paranormal Idea/Social Event "Rooh e Haqiqui-Enter The Paranormal Paradigm" On November 10th 2012, https://www.facebook.com/media/set/?set=a.678960235453180.1073741826.513864345296104&type=3&uploaded=54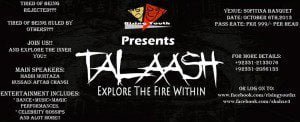 Rising Youth Is Back Again With A Bang!!
The Main Thing In Life You Want Is Surely Your Success!! But Do You Think It's Easy?? Of course Not!! This Time We Are Coming Up With An Experience of a Lifetime That Will Explore Your Minds And Diversify Them Towards The Field Of Knowledge And Success And Will Build Your Inner Strength, Peace Of Mind As Well As The Ability To Strategize In Order To Combat the Hurdles You Are Facing In Your Life!!! As Everytime You Are Ruled By Others And Always Apologizing For Who You Are!! It Is Time To Stop Letting Them Run The Show!! Pay Attention To Situations That Make You Spin, Get Your Mad Factor Going, Or Send You Into The Pool Of Suffering. Be The Boss Of Your Emotions By Having And Taking Responsibility For Them, And Don't Let Them Drive Your Life. And This Time You Will Uncover The Truth And Will Find The Inner You, All By Yourself In A Motivational Training Session "TALAASH – EXPLORE THE FIRE WITHIN"
The Most Common Fears Holding You Back From Your Success Can Be:
1) Fear Of Failure
2) Fear Of Success
3) Fear Of Being Judged
4) Fear Of Embarrassment
5) Fear Of Rejection
6) Fear Of Expressing Your True Feelings
7) Fear Of Loss
8) Fear Of Intimacy
You Can Choose To Be A Martyr And A Victim, Or You Can Choose To Be Authentic.
To Cope Up Your Fears, Guilt, Defeats. To Show The World Your Most Real Self, To Explore The Inner You, The Strong, The Self-Assured, The Funny, And The Serious. Get On To The Roller Coaster Brought To You By "Rising Youth- Where The Fun Begins".
Join Us And Be A Part Of This Session With Lots Of Extravageous Activities And Entertainment With The Best And Well Knowned Trainers
MAIN SPEAKERS: Maddi Murtaza And Hussain Aftab Changi 🙂
Venue: SOFITINA Banquet ,ST6/18 Block No.10 Gulshan-e-Iqbal Adjacent Aziz Bhatti Park
ENTERTAINMENT INCLUDE:
Stand Up Comedy
Dance Performance
Celebrity Gossips
Magic + Music + Fire Work Performance By Zafaryab Khan
And Much More To Be Revealed Soon 😉
CELEBRITY GUESTS INCLUDE:
Ayaz Samoo A.k.a Sajid Billa
Noman Habib
Hassan Baig (MODEL)
Mani
Hina Dilpazir (Momo)
And Abbas Jaffery 🙂
INVESTMENT STRUCTURE:
PKR 999 Per Head-
DISCOUNT PACKAGES INCLUDE:
For Group Of 3 Or More (PKR 899 Per Head)
For Group Of 10 (PKR 899 Per Head + 1 Complimentary Pass)
INVESTMENT INCLUDE:
LUNCH+CERTIFICATES
Just Register Yourself And Join Us As We Lighten The Darker Side Of Your Life In To The Globe Of Success
https://docs.google.com/forms/d/1fREwkhSkrm-twcKn9nYSzrrZR1hZv9WHxSAL20FMj0c/viewform
For More Updates, Join Our Official Facebook Pages!
1) RISING YOUTH
http://www.facebook.com/risingyouthz
2) SHAHZAD AHMED
http://www.facebook.com/shahxe3
3) ZAFARYAB KHAN
https://www.facebook.com/Zafaryab100
4) MADDI MURTAZA OFFICIAL
http://www.facebook.com/Maddified?fref=ts
Lead Supporters:
1) Apniisp.com
2) Celebrations – A New Trend Of Event Management
3) Arshmedia
Official Coverage By:
1) MAD Photography
2) HBN PHOTOS
3) Ashies Clicks
4) Arsalan Photography And Artistry
5) Yaqoob Ali Photography
For Any Queries, Contact:
+92331-2133076
Regardz,
SHAHZAD AHMED – CEO/Founder Rising Youth
NABA KHAN -Chairperson Rising Youth