"SPECULATA – Redefining premiership"
Date: 24 March 2012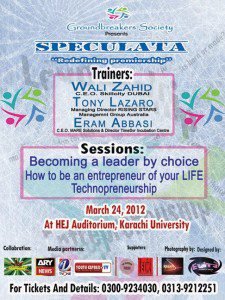 Time:  9:00am until 2:00pm
Venue: HEJ Auditorium, Karachi University.
SESSIONS:
1) Becoming a leader by choice
Are leaders born or made?
Of course leaders are born. As are followers. As are Olympians, car thieves, high school principals, serial killers and celebrity chefs. Everyone is born. Everyone is also made.
What you want to know is if people can learn leadership!
Yes! Leadership is learned. Leadership is an acquired skill. It is a practice. The ability to lead others is developed from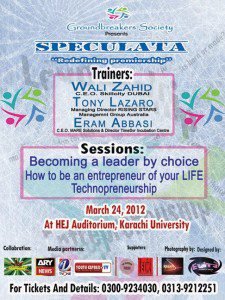 life experiences, as well as structured learning on the interrelationships of humans. It can be acquired, nurtured and matured through deliberate practice. So our Leadership Workshop focuses on a number of key areas to help ensure leadership success. This Workshop provides individuals with the tools they need to confidently and effectively lead others. It helps individuals discover the universal leadership qualities and principles that will help them to become highly effective.
2) How to Be the entrepreneur of your life
Encouraging entrepreneurship is a key to improve competitiveness, boosting exports and fostering economic growth and training plays a vital role in such an endeavor. Our workshop participants will learn to improve their financial planning skills, assess key success factors attributed to developing sustainable business, make a better plan for future. Provide a vision to create jobs instead of waiting for an opportunity.
3) Technopreneurship
TRAINERS:
WALI ZAHID ( CEO Skillcity )
Wali Zahid is Chief Executive Officer at Skill City Dubai [Asian answers… to Asian questions]. HE has been a country Director, Management Development Services Pakistan at British Council. Wali is an international consultant, speaker, leadership trainer and executive coach. He is CEO of Skill City [Asian answers … to Asian questions], a new-generation learning and development regional firm with a developing-country perspective. He has spoken to audiences in South Asia, Southeast Asia, Middle East, East Africa, Western Europe, England and the United States.
Wali has trained thousands of managers and business leaders in the past 15 years from most Fortune-500 companies. His leadership and training of trainers workshops have been crowd pullers. His branded workshops include 'Leadership for CEOs', 'Women in Leadership', 'Leadership Readiness', 'Leadership Derailments' and 'Train The Trainer'
A lifelong learner, Wali has received training and education in the USA, Canada, UK, Germany, Austria and Singapore. He is an accredited leadership trainer from Team Management Systems, Australia. He has also taught pioneering courses at MBA level in Pakistan's premier business schools like IBA Karachi and Szabist.
Wali's most recent employer has been British Council, Pakistan where he worked as Country Director of its Management Development Services during 2001-2008.
He is or has been member of UK's Institute of Directors, Chartered Management Institute, Chartered Institute of Personnel & Development and American Management Association.
TONY LAZARO
( Manager Rising stars Management group —- Australia )
Tony Lazaro is original founder of The Rising Stars Management Group. A keen sportsman and a self-made man who has combined common sense with his experience on "the street" to develop a business teaching for all young executives. Having been educated in the UK he worked in various companies throughout his twenties identifying what makes a company successful and more importantly what makes young people become successful.
. Today he owns 15 different businesses internationally, which range from a travel agency, to investment, real estate development, an art foundation, medical tourism and elite sport management… just to mention a few. Tony is a fully qualified football coach based in Sydney…. as well as a business coach, who has an inspiration for helping humanity
He currently visited Karachi and Islamabad spoke with several universities, key businesses, prominent business leaders and several religious people from all generations….
ERAM ABBASI
(CEO MARE Solutions & Director TimeSvr Incubation Center)
How you will benefit:
• Identify unique leadership skills in you
• Motivate followers and inspire them to action
• Learn about new dimensions of doing businesses in developing countries
• Generate presence and charisma that command respect
Who Should Attend:
Students, Lecturers, managers and executives and anyone who aspires to a leadership position or who is expected to provide leadership.
SO why not get on toes for SPECULATION?????
Very Limited Seats.. Grab your passes as soon as possible!!
Tickets:
For professionals:
5,000 (40% OFF till 15th March)
For Students:
1500 (40% OFF till 15th March)
Official Partners:
Xaidi Productions
Khan Studios
Elite Productions
Events In Karachi
For Tickets And Details:
0300-9234030
0313-9212251
0333-5895680
03053567861
03322536746