Bringing it to you for the first time in Karachi, an event ONE OF A KIND and beyond your expectations.
Colors, Joy, Happiness and festivity enriched with the topping of friends-yes, you are right; You are hearing the carnival bells ringing.
It's that time of the year where you let go of the fears and scream for joy on the most amazing rides, Where you leave the worries and for once indulge in the most exotic foods. .
So let your hair down and get ready for the most awaited event of the year, SKANS School of Accountancy Karachi Campus present to you all, Carnival '12, a night warmed up with fabulous stalls and energetic talent show are some of the hints that will make be the event obligatory to attend.
And to prevent the exit door getting rushy, carnival will keep you indulged in excting games and band performances. We have different bands coming including Royal's Law, Evolution and SKANS internal band. So that time is something you would least care about.
Keep looking around the campus for latest updates and don't miss the opportunity to grab your limited tickets as soon as possible and multiply your fun.
Plus if you want to put up a stall get yourself registered for it…
Attractions=>
Unlimited Food Stalls
Exciting Games and Entertainment Corner
and many more….
Gear yourself up for the most entertaining time ahead
Note=>
The proceeds from the carnival are going to be sent to SIUT and Alamgir Trust .
Management reserves the right to refuse entry.
Students who are willing to act as volunteers are free to contact the numbers as below:
For details contact: SKANS Karachi office: 021-35862318-20. Email : info.khi@skans.edu.pk
Media coverage: HUM TV, FM96
Social Media coverage: Mediabox Entertainment
Sponsors: PSO, Arif Habib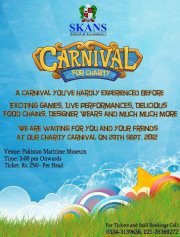 Organizing Committee:
Rameez 0342-2514893 ,
Nubair : 0332-2176406,
Ahmed: 0331-2023401,
Faraz: 0334-3139638