The Youth Leadership Seminar is where you will develop your skills in youth leadership, communication, motivation and perseverance etc. Your participation in this seminar will qualify you to lead and manage volunteer groups, international work and campaign activities.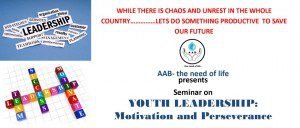 WHY?
When you participate in this seminar you strengthen the personal and social competencies that you need to lead a group. The knowledge and tools you learn at this seminar will give you the experience relevant to your education, job or organisational work. And the best part – you get to save lives, 50% of your participation fee goes to students of Minerva Education System, for their healthcare and education.
HOW All discussion and activities introduced at the seminar are focused on how to act local with global mindset. This means that the tools throughout the seminar are focused on how to develop leadership skills in order to lead people to do social change, which matters locally and globally.
The seminar focuses on following topics:
Perseverance
Motivation
Cooperation
Communication
People Management
Conflict management
Date: Saturday, 30th March 2013 Venue: Casamento Hall, Block L North Nazimabad, Karachi
Time: 2.00 – 5.30 pm No. of Participants: 600 Age Group: 18 to 30 Participation Fee: Rs.1000 (Activities, Handouts, Prizes,
Certificate and Hi-Tea)
For Registration Forms Contact: 03452300215
For more information
www.aab-theneedoflife.com
Last date for Registration: 20th March 2013