Supply Chain Management – Horizon & Challenges of Pakistan Fruit Industry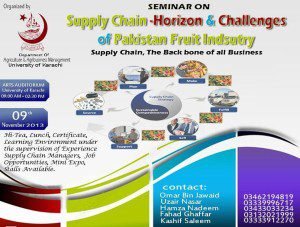 Aim:
To conduct a successful Seminar on "Supply Chain Management- Horizon & Challenges of Pakistan Fruit Industry".
Introduction to seminar:
Fruit Industry, like any other industry in Pakistan, is suffering because there is no proper storage, processing, lack of logistical support and low yield of fruits. People have no knowledge about new, advanced marketing techniques, post harvest managements and supply chain management practices. The consequence of all this is that Pakistan export potential of its vegetables and fruits is limited and this industry is not growing with pace that it should be. There is a huge demand of Pakistani fruits and vegetables in international market. Despite of this fact Pakistan only exports 10 to 15% of its total productivity of fruits. There are some countries which export almost 50% of their fruit yield in international market. All these resulted in losses in economic terms and our horticulture sector contributes 12% of Pakistan's Agricultural yield. Therefore The main purpose of organizing this seminar is to bring the luminaries from Industry and Academia under one roof to deliberate the supply chain issues & challenges faced by Agribusiness organizations to deliver quality products and services that meet customer expectations. This Supply Chain Management seminar aims to explore challenges faced by supply chain professionals of Pakistan fruit history and difficulties faced in supply chain management practices. Different supply chain professionals will also share solutions which have been key practice for the improve supply chain to improve service levels and drive down costs. This seminar will build bridge the gap between industry and academia to exchange their thoughts and current requirements. It will guide the students to explore supply chain and get clear view about this developing field. This seminar will provide an in-depth learning experience needed to effectively introduce the subject of Supply chain to future Agribusiness leaders. Therefore the main objective of this seminar attempts to demystify the gray areas under the scope of Agribusiness Supply chain management.
Benefits:
At the completion of this seminar, participants will be able to:
Understand what supply chain management is fundamentally about
Look 'outside of the box'
See that movement to the customer is all that adds value
Problems faced by different supply chain channel partners
Work better with all of the supply chain players (both internally and externally)
Current problems and practices in supply chain management
Apply key techniques to control lead time and the movement of goods and materials
Apply the 8 Rules for Effective Supply Chain Management
Personal Benefits
Appreciate changes to Agribusiness processes that are taking place
Gain the financial benefits that effective supply chain management can bring
Determine how time builds up in supply chains and that time is cash
Be able to understand, recall and apply improvements after the seminar for work based application
Apply Best in class practices
Learn from other delegates experiences and practices
Job Fair, Job Hiring opportunities
Date, Time, & Venue
Arts Auditorium, University of Karachi, 09 November 2013. 09:00a.m to 03:00pm
Who Should Attend?
Supply, Buying, Purchase, Logistics, Materials and all Supply Chain Professionals
Those who need to develop their understanding about Supply Chain Management
Those who are looking for business gains and benefits from managing their supply chains more effectively
Practical. Learn from experienced and active industry practitioners and what's being practiced by your peers.
Applicable. Apply what you learn in your job and your career
Specially designed courses by industry active experts for industry practitioners
Valuable. Earn more revenue or save your organisation from monetary loss. You and your organisation will quickly earn back your investment on the course fee and more
Enjoyable. Speakers who have a passion for their topic
Clear. Turning complex concepts into easy to understand concepts
You gain knowledge and skills that make you valuable to your company and your career
Instruction by industry experts – our experts go through a systemised vetting process to ensure we work with the best
Certificate of completion – to demonstrate your achievement + lunch, snacks and refreshments.
aMeeting your industry peers
Ask questions relevant to your job – so you can learn how the concepts apply to YOUR specific situation
Limited seats
Registration Fee: Rs.300/- For the Students of Agriculture & Agribusiness Management (UOK).
Rs. 500/- for other Participants, Special 20% discount Offer for the (other)Participants registration on group of 4 stundents.
Note: Must bring your CV's with you as there would be a Job waiting for you,
last date of Submission is 4th Nov 2013, Limited Seats are available. Registration will be occur on the basis of First come first get, so hurry up !
Contact:
OMAR BIN JAWAID 03462194819
FAHAD GHAFFAR 0313202199
KASHIF SALEEM 03333912270
Note : must bring up your CV's as multi-national Companies will be there, Grab this Opportunity as fast as you can !!!