The Dictators-EM promises to bring international artists to Pakistan; we believe in changing the prevalent wisdom of Pakistan being an unsafe place for renowned artists and international events.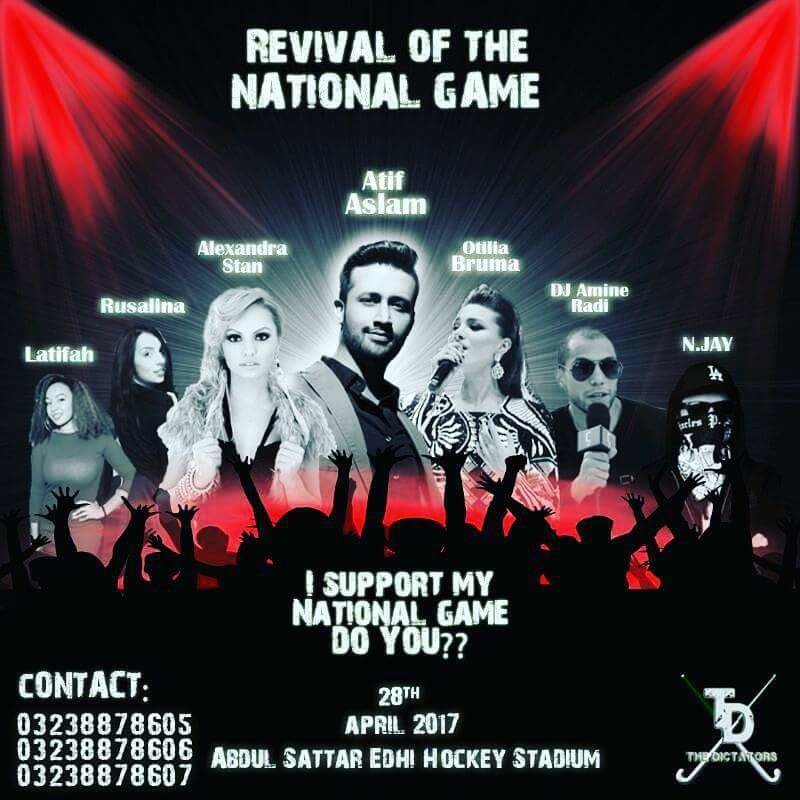 The Dictators Season-2 Revival of the national game
Do we know Team Pakistan (hockey) is the most successful team of the world winning 4 world cups?
1971
1978
1982
1994
Do you know Pakistan Hockey Federation (PHF) has planned an event like PSL to be HELD IN PAKISTAN for which 30+ players have been appointed? The Dictators-EM has taken a step forward along side with PHF and has engaged international artists to perform at the Hockey Stadium letting the crowd get a feel for the sports and the passion i.e National Hockey stadium for a National Awareness.
Do we Know Sultan Azlan Shah Hockey Tournament starts 26th April and unfortunately Team Pakistan (holding third postion in tournament stats) did not qualify for the event???
The Dictators-EM will keep on supporting the National game of Pakistan and the players no matter what the barriers are. Let us gather up on the 28th of April 2017.
The Dictators-EM has provided combination of artists which have always been supported by the general public. For season-2 the artist list is:
A) Rusalina along with her rapper Latifah– Rusalina
(https://www.youtube.com/watch?v=DgsTPU4NXcM)
– For the first time in Asia.
B) Otilia Bruma with her crew- Otilia
(https://www.youtube.com/watch?v=SfwX7JVLv-A)
-Second appearance in Pakistan.
C) Alexandra Stan- Alexandra Stan
(https://www.youtube.com/watch?v=sS76eS34Y0c)
-First appearance in Karachi.
D) Atif Aslam- Atif Aslam
(https://www.youtube.com/watch?v=SxTYjptEzZs)
-Since National cause was incomplete without him.
Please note: Official Hockey players declared by institutions in Karachi will be sent invitations officially by the company i.e they will be the guests for the event.
For tickets and other information:
https://www.facebook.com/thedictators.pk
Call now: 03238878605 – 03238878606 – 03238878607 – 02134320323