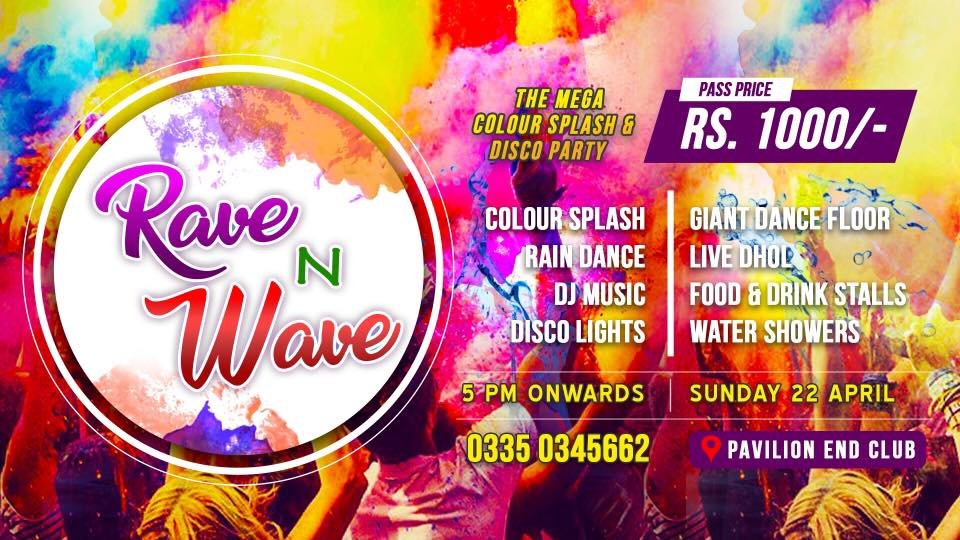 Rave N Wave – The Mega Colour Splash & Disco Party
FUN FUN AND ONLY FUN.
Roll up your sleeves and get wet for our water splash and disco night. As the event promises to bring the most Amazing, Fun filled summer treat.
Ultimate water fight festival come along with your friends and blast tons of water on them with water guns and water balloons. Splash in water through Rainy Dance Floor, Water Guns, bring out your childhood and enjoy food, candies while dj plays the best songs dance under artificial rain. FUN FUN & FUN.
*REFRESHMENT INCLUDED IN PASS*
PASS PRICE : 1000/-
Sunday 22 APRIL 2018
5 PM ONWARDS
VENUE :- PAVILION END CLUB
::ATTRACTIONS::
•3 DJs
•MEGA DANCE FLOOR
•WATER SHOWERS
•LIVE DHOL
•WATER BALLOONS
•WATER GUNS
•RAINY TRUSSING
•DISCO & BEAM LIGHTS
•DRINKS COUNTER
•FOOD STALLS
•LASSI COUNTER
•EXCITING GAMES
•SELFIE ZONE
•NATURAL COLOURS
•TATTOO STALL
•COCKTAIL STALLS
•PROFESSIONAL PHOTOGRAPHERS
•SECURITY
•SECURED CAR PARKING.NOTE:
For Attendees:
Events in Karachi does not take any responsibility for Postponing, cancelling or any mishap during the above event. The Above Content is copied from Facebook Events or is shared by User Request.

For Organizers:
We can only remove the above Note, as organizers show receipt of bookings or NOC to the website management.
You can take down the post by request to website management.
Any changes in Content will also be entertained by the website management.

Regards,
Team EiK