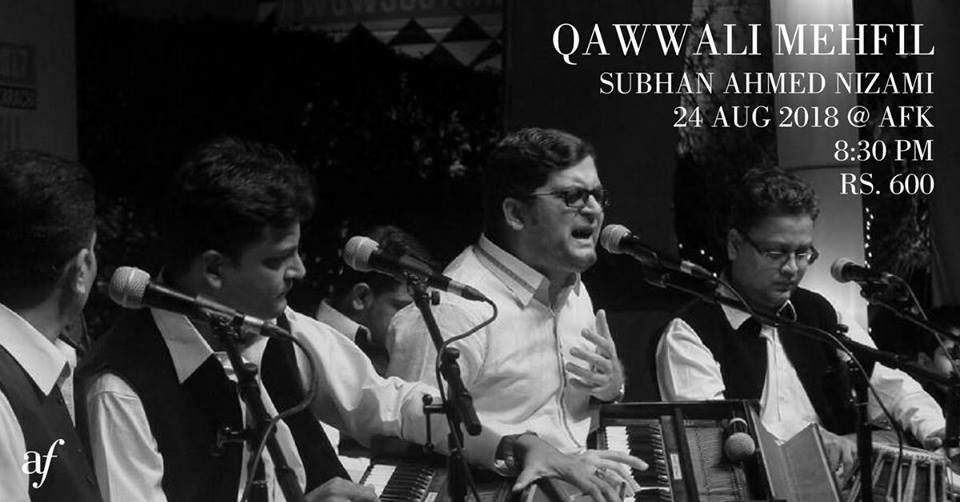 Join us for a qawwali mehfil with Qawwal Subhan Ahmed Nizami and his troupe on Friday 24 August 2018.
Date: 24 August 2018
Time: 8:30 PM to 10:30 PM
Place: Alliance française de Karachi
Entry: Rs. 600. Buy tickets from our reception or online via the Bookitnow.pkwebsite or app: https://bit.ly/2q0SsRn
Radio Media Partner: CityFM89
Subhan Ahmed Nizami is a descendant of the prestigious "Qavvaal Bachon Ka Gharana" of Delhi. Some years after his family migrated to Pakistan, the Manzoor Niazi qavvaali group was formed, featuring cousins Munshi Raziuddin, Ustad Bahauddin Khan, Ustad Manzoor Niazi and Subhan's grandfather, Ustad Iftikhar Ahmed Nizami.
As the families grew and reached almost 50 members, each Ustad formed his own qavvaali troupe, adding to the wealth of the gharana's heritage. Ustad Iftikhar Ahmed Nizami, the eldest cousin and the great-great grandson of Ustad Tanrus Khan, was extremely versatile and was blessed with a beautiful voice. His Radio Pakistan concerts were highly sought after performances that people would go out of their way to attend. His son, Ustad Afaq Ahmed Nizami was the family librarian, a specialist of Farsi kalaam, and an exemplary practitioner of classical music.
After his father's passing in 1999, Subhan Ahmed Nizami, barely 18, formed his own qavvaali group to continue the legacy of his forefathers. In addition to performing in Pakistan, Subhan and his brothers have given several extremely well received concerts in France.
NOTE:
For Attendees:
Events in Karachi does not take any responsibility for Postponing, cancelling or any mishap during the above event. The Above Content is copied from Facebook Events or is shared by User Request.

For Organizers:
We can only remove the above Note, as organizers show receipt of bookings or NOC to the website management.
You can take down the post by request to website management.
Any changes in Content will also be entertained by the website management.

Regards,
Team EiK