The waves under your feet, moonlit sky over the head, hot coffee and delicious BBQ, sounds exhilarating, no? All of it accompanied by blazing bonfire and winter breeze at PIMUN's third social event. Come and enjoy "Offshore Bonfire" with PIMUN and have an experience of a lifetime on 29th December.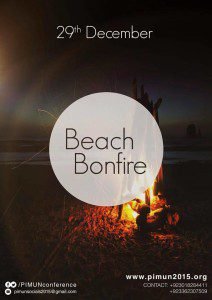 Event details are as follows:
Date: 29th December
Venue: To be disclosed to pass holders only.
For passes, please WhatsApp/Viber/Text your name, contact number, address, name of event and number of passes to 0336-2307509.
You may also sign-up online to buy passes with the following link:https://docs.google.com/forms/d/1utZcQHs3DUYc0OqcxfCW5SnSsXNrT7C50bm714BucCA/viewform?c=0&w=1
For any other queries, please contact:
0301-8284411
NOTE:
No stags, no drugs, no weapon and no private security.
Transportation will be provided for free with security.