Sunday, January 1, 2012 at 11:00am until Tuesday, January 10, 2012 at 5:00pm
… PARAGLIDING IN KARACHI …
YES!! the wait is finally over.
For the 1st time ever in Karachi, EMAC brings you the thrilling sport of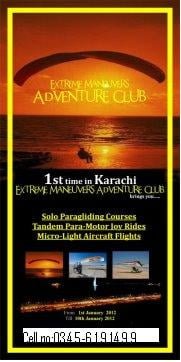 Paragliding.
PARAGLIDING is the simplest and most purest form of aviation and easiest
way to fulfill mankind's oldest dream: FREE FLIGHT.
A foot launched para-glider, is easy to launch and land: you launch
yourself, off a gentle slope facing the wind. As the wing comes above you,
it starts lifting: a few steps and you are airborne….Once you have mastered
the glider controls in this flight, you get a choice to fly again.
A great opportunity for anyone who wants to safely experience the joy of
flying under the supervision of professional instructors.
Male / Female (15 years or above)
Ideal for:
– CORPORATE GROUPS
– STUDENT GROUPS
– SOCIAL GROUPS
– INDIVIDUALS
Package is inclusive of:
* Beginners course of the activity
* Quality activities and safety equipment.
* First Aid and Emergency services
* Professional, Experienced and Friendly Instructors/Guides
* Certificate of Participation
* Action Photography & Video
* Great Service, Fun and Adventure satisfaction…GUARANTEED!
Paragliding Beginner Course + 3 solo flights @ RS 7,999
20 min Tandem Powered Paramotor Joyride@ RS 8,499
20 min Tandem Micro-Light Aircraft Joyride @ RS 8,499
Group booking discounts are available.
___________________________________________________
BUSINESSES:
Valuable sponsorship opportunity with potentially extensive media coverage.
Pass available: 92-345-6191499