As a build up to the season finale SUPERSALT 2019, we present on 7th December a premium edition of Salt Flights, Allen Hulsey (Turkish/American) artist from Monality, a LIVE electronic duo formed by Allen Hulsey and Erdem Tunalı.
Allen combines Deep Tech and Ethnic Electronic Music with tonal and stylistic signature sounds. The stage performance uses live vocals, electric guitar, synths, and instruments including (Fretless Guitar, Bağlama, Kanun, and Bowed Guitar). The latest EP East Wind was released form Bercana Music in February.
Allen will be joined by Karachi's favourite Salt Arts resident DJ Hussain Dossa, known for his world music influences. Hussain Dossa will also be playing some of his recent original music produced in collaboration with Salt Arts over the season in Karachi and Hunza, including the popular Tamasha House Edit (Khumariyaan).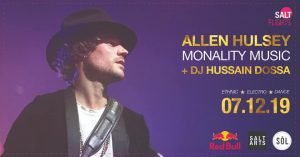 Come enjoy this early winter night, outdoors under the Karachi sky!
07.12.2019
SOL HOUSE
Rs.5000 per person
9.00PM – Midnight // Doors open at 8.30 PM
The evening includes a selection of savoury party food especially prepared by SOL, along with hot and cold drinks.
LIMTED CAPACITY
Special hotline for bookings : 0301 3538009
(Tickets will be delivered to you / COD)
Guests under 18 not allowed
ID/CNIC verification upon booking and entry.
#saltarts #ethnic #electro #dance #internationalmusic