Saturday, 29 September 2012 09:00 until 17:30
at Art sCouncil, Karachi.
A one day youth workshop. Where almost 250 + participants will particpate to ignite their souls to recognize their true self.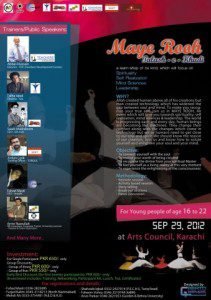 Why:
Allah created human above all of his creations but man created technology which has widened the gap between soul and mind. To make you recognize your true self, join us in MAYE ROOH. An event which will take you towards spirituality, self realization, mind sciences & leadership. The world is progressing each and every day, human beings are becoming like machines. They cha…nge their  comfort along with the changes which come in technology but we as humans need to get close to our soul and spirit. We should know  the reason of our creation. Join us and know how to solute yourself and enlighten your soul and your mind.
Who:
Young people of age 16 to 22.
Objective:
– To connect yourself with the soul
– To realize your worth of being created
– To recognise the divine from your spiritual Master
– To feel yourself as a living reality at this very moment
– To experience the enlightening of the consciousness
Methodology:
– Keynote session
– Activity based session
– Story telling
– Break out sessions
– Panel Discussion
Trainers/Public Speakers:
– Talha Iqbal
– Mujtaba Saadi Makhdoom
(www.facebook.com/Mujtaba.Makhdoom)
– Arslan Larik
(www.facebook.com/larikz)
– Fahad Masti
(www.facebook.com/mastivation)
– Abbas Hussain
– Amin Nasrullah
– Faheem Vohra
– Hassan B. Taak
And many more …
Photography Courtesy:
– Farjad Kalim
(www.facebook.com/pages/Farjads-photography/242030569178792?ref=ts&sk=info)
– HBN
(www.facebook.com/hbnphotos)
– Ej Zobi
(www.facebook.com/EjayArts)
– Anas Parkar
(www.facebook.com/parker.photographs)
– Farhan Mumtaz
(www.facebook.com/KalashGraphy)
– Zahra Masood
(www.facebook.com/pages/ZM-photography/348789531805653)
– Toqeer
(www.facebook.com/tQrphotography)
Media Partners:
– Circles Magzine
(www.facebook.com/circlesmag)
Investment:
For Single Participant: PKR 650/- only
Group Discounts:
– Group of three: PKR 600/- only
– Group of five: PKR 550/- only
Early Bird Discount (for first twenty participants): PKR 600/- only
(Investment includes: Training, Networking, Participant Kit, Lunch, Tea, Certificates)
For registrations and details:
– Fahad Masti: 0336-2825095
(calls will be preferred)
– Farjad Kalim: 0345-3118213
(North Nazimabad)
– Mehdi Ali: 0333-3754481
(N.E.D & K.U)
– Shahzaib Iqbal: 0332-2427914
(P.E.C.H.S, Tariq Road)
– Faheem Vohra: 0346-3519744
(IoBM)
– Anas Parkar: 0346-2621053
(Garden & Behria University)
Online registration form:
https://docs.google.com/spreadsheet/viewform?formkey=dDZwbVc5U1NkelE1eVZxYmYxMjJUU1E6MQ